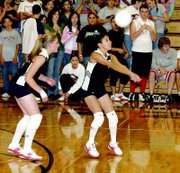 A loud and boisterous homecoming crowd provided plenty of spirit, as Sunnyside's volleyball team sprinted to an early advantage before falling at home to Prosser 3-2 last night.
The Mid-Valley League match-up had the hustle and emotion of a play-off contest, and no wonder since both teams are vying for district tourney berths.
Despite the 3-2 loss, Sunnyside very nearly swept the match, faltering late in game one before winning the second and third stanzas.
Leaping Christi Linde's jump serve sparked the Lady Grizzlies to an 18-14 lead in game one before Prosser rallied for an 11-3 run for the win.
"They went back and served consistently," Sunnyside Coach Angel Carrizales said of the guest Mustangs' surge following a time-out.
The Lady Grizzlies trailed 10-5 early in the second when sophomore Claire Schilperoort served for six consecutive points, including back-to-back aces. The second remained close from there until Sunnyside's superior net play and service prevailed for a 25-20 victory.
Game three was all Sunnyside, with Sami Jo Sartin serving the home team to a 6-0 lead. The margin stretched to 10 at 13-3 and the Lady Grizzlies never looked back in a 25-15 win.
"That third game was huge for us," said Carrizales. "We worked really well together."
The roar of the crowd was deafening as the Lady Grizzlies went into the fourth game on the brink of taking the match.
And that's about the time the wheels came off the Sunnyside express.
"I think we relaxed in the fourth game, we thought we had the match won," Carrizales observed.
Prosser had other plans, pouncing on Sunnyside for a 5-1 lead on the way to a 25-10 win and knot the match at two games apiece.
The deciding fifth game was more of the same for the visiting Mustangs, breaking open a tight game with a 5-1 run and cruising to the 15-7 win.
"Our communication and serve/receive broke down in the fourth and fifth games," Carrizales pointed out. Indeed, Sunnyside had some rallies in each of the final two games which fizzled due to unforced errors.
With one win needed in the final two matches to clinch a playoff spot, Carrizales found several positives to take from the Prosser match.
"Katie Weets came to play tonight!" Carrizales enthused. "She had 11 kills and only two errors."
The coach also praised the serving of Schilperoort, which served as a spark plug throughout the contest. The sophomore also contributed seven kills and 10 digs.
Leapin' Linde pounded 16 kills and Kerri Urrutia had a team-high 21 digs for the Lady Grizzlies (1-9, 3-13).
Next up for Sunnyside is a trip to Selah this Thursday for a key Mid-Valley League tilt.