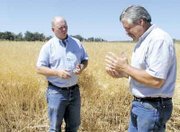 It may not be turning water into wine, but Natural Selection Farms near Sunnyside will turn canola oil into bio-diesel fuel.
With a $100,000 grant in hand from the U.S. Department of Agriculture, Natural Selection will install a pressing facility at its operation located off of Emerald Road.
Oil extracted from canola and other seed crops has already been converted into a form of diesel fuel in locales ranging from Germany to the Seattle area.
Not only canola, but restaurant cooking grease can be turned into a diesel fuel which looks - and works - similar to the real thing.
"There are cities, where there busses smell like french fries because they use oils to blend in to their diesels," noted Amber Hansen, director for the Port of Sunnyside.
The port facilitated Natural Selection's receipt of the grant funds.
"I know that the city of Seattle is very strongly supportive of alternative fuel sources," Hansen said. "I can't think of anything better for the agricultural community than the introduction of a new crop with a market."
The market for bio-diesel looks increasingly to include not just municipalities or government agencies, but passenger vehicles as well.
"Last week it (bio-diesel) was $3.10 a gallon, that's the first time it has been cheaper than regular diesel," observed Tom Durfey, owner of Natural Selection Farms.
Durfey said the bio-diesel his firm will produce can be used in a typical diesel engine.
"From what I've read, bio-diesel engines burn cleaner with less emissions," noted Durfey, who added that some reports state the use of bio-diesel can result in a longer lasting engine.
As always, though, the proof is in the pudding. As a result, the grant received by Natural Selection is for a pilot program, a starter kit, if you will, to determine demand.
"We started doing research in 2003 and we're hoping to by the end of year to have the press operating," Durfey said.
As part of the canola-into-diesel research, Natural Selection has successfully grown a variety of winter canola that needs less water.
"We've found that the following year the varieties yielded better and we were able to use water on other parts of the farm," Durfey explained.
He figures he will grow about 500 acres of canola next year, which will produce about 80,000 gallons of bio-diesel. That's roughly enough fuel to power 130 diesel vehicles for an entire year, based on an average of 12,000 miles driven per year.
"It just seemed like a progressive approach for sustaining agriculture, especially with a commodity that will never oversupply," said Durfey.
"It's a starting point," he said of Natural Selection Farm's venture into canola as a fuel source.
"We're trying to start small and see if we can make it work on a grassroots level," he added. "Price will be the key factor, as petroleum prices goes up people will look for alternative fuels."
Hansen, for one, hopes the canola-into-diesel effort takes hold.
"The port is seeing this as the introduction of greater economic development for the communities," she said. "We're excited that we could help with that introduction."