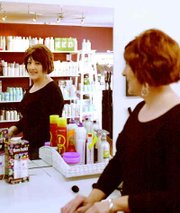 GRANDVIEW - Paula Rogers has been living and working in the Lower Valley for over a year now. A professional hair stylist, Rogers recently joined the team at New Reflections in Grandview.
"I love it here," she said. "This is a very nice group of ladies to work with."
Rogers, born and raised in Naselle, Wa., moved to Sunnyside in August of 2004. She left her hometown for Sunnyside to be with family and to get away from the rain.
"I like the weather here, for sure," she enthuses.
Rogers owned her own salon in Naselle and closed it down after she moved to Sunnyside. She likes the town but it took a while to get used to.
She said she's sure people who are from Sunnyside think it's a small town but to her it's big.
"It took some adjusting," she added. "I come from a really small town."
Rogers graduated from Astoria Beauty College and holds licenses in Washington and Oregon.
She worked at First Impressions here in Sunnyside, then Salon Innovations in Prosser before finally settling in at New Reflections.
She said sometimes it takes awhile to find the right fit and feels her new place is where she'll be the happiest.
Rogers spends a lot of time at hair shows and hair coloring classes learning new things. "We always have a continuing education," she added.
Rogers rents her own station from New Reflections so she must carry a business license. Along with her business license, she carries a manicurist esthetician cosmetologist license and a salon/shop license.
Some of the services she offers are hair cuts, extensions and coloring, manicures and pedicures, facials and herbal body wraps.