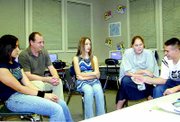 Astronaut Bonnie Dunbar was the drawing card that had four Sunnyside eighth graders volunteering to take a trip to Rattlesnake Mountain Observatory Saturday, Oct. 15.
Meeting the astronaut who hails from Sunnyside was the main reason Eric Desmarais, Kendra Meeker, Haley Barnes and Celina Gutierrez took up the offer made by their science teacher, Cliff Marr.
"The best part was that there were only four of us, so we got to meet her personally," said Desmarais.
"She was just like us," said Celina Gutierrez, who admits that she has always had a hankering to be an astronaut. After meeting one who went to the same schools Gutierrez attends and will attend, her goal seems even more real to her, she said.
Besides meeting Dunbar, the students had other reasons for wanting to visit the observatory.
Gutierrez' reason, of course, was because she has hopes of traveling in space one day. Barnes said she'd never looked through a telescope before and wanted to give it a try. "It was pretty interesting. That telescope was really big," she said.
Meeker, who had seen the projection of solar flares through the telescope at the Goldendale Observatory, wanted a repeat experience. "But we didn't get to see the solar flares and the ceiling didn't open up; it was windy. But it was cool working with the computer that moves the telescope," said Meeker.
"I really like science," enthused Desmarais. We talked to an astronomer, and the telescope was really huge and then there were smaller ones-one for the moon, one for Venus and the rest to look at other planets. We learned that when there's a Super Nova, an exploding star, it scatters elements all over the universe."
Marr had his own reason for offering the trip to his eighth grade science class.
"The purpose of science is to look at the world in a new way," said Marr. "Bonnie Dunbar told us what impressed her in space was how thin the layer is that keeps us alive, and we think we have all this space, all this room, so far up and down, but from outer space, it's this tiny, tiny little haze. Her strongest message was that it gives us a stronger appreciation of what's here."
Having an astronomer on hand to talk to the students was a big plus, Marr said.
"People who work in science are so excited about their job. If they're excited, it's contagious, and that's what I wanted for my students," he said.