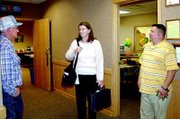 A gala open house at Provident Horizon Group in Sunnyside Wednesday came just in time for National Disability Employment Awareness Month.
President George W. Bush proclaimed the month of October for the nation's observance of "the millions of Americans with disabilities who currently serve in the workforce".
The president made that statement in his proclamation Oct. 3. Sunnyside Mayor Ed Prilucik issued one of his own to seal the deal.
Provident Horizon Group, the former Horizon of Sunnyside, was holding a dual celebration Wednesday. In addition to the special recognition of the employed disabled, it was marking the merger it made July 1, 2005, with Provident Services of Yakima.
Balloons and tables laden with food greeted visitors who stopped by from noon to 5 p.m. to learn about the training and job placement the agency offers to developmentally disabled adults in Yakima County.
Cris Gonzalez, director for Region II (Sunnyside), said 150 people participate in services through the agencies in Sunnyside and Yakima.
Life skills that will prepare participants for jobs, vocational training and job placement all figure into the agency's service.
Sherie T. Leadon of Yakima, executive director of the merged agencies, compared society's treatment of the developmentally disabled in the past to today's adults who are entering the workforce in greater numbers.
"A long time ago, they were hidden away. Then, put into asylums until new thinking put them into special schools. It was considered protection, sheltering, but we came to understand that protecting meant discrimination, segregation," said Leadon.
Now, she said, the developmentally disabled are getting a better break in life.
Through Provident Horizon Group, men and women are introduced to social and living skills. They receive training, which they can put to use through contracts the agency signs with various businesses, such as Canam Steel of Sunnyside, Alexandria Moulding of Moxee and Walters Inc. of Harrah.
The participants don't just jump into jobs. "It can take months, years, maybe never, before they go out on a job by themselves," said Gonzalez.
The participants are evaluated to learn what type of work they will be able to learn, and then training begins. Basilio Alaniz of Sunnyside is the lead skills trainer at the Sunnyside site. His work area has a variety of stations. Through one established contract, his trainees assemble parts for music stands, under his watchful eye.
Others in the program participate in group employment, perhaps as members of janitorial crews that clean local businesses, under the supervision of crew leaders.
Individuals have been placed in local jobs, such as at grocery stores. But often they don't go alone; a support person is assigned to shadow them on the job. In time, when the participant feels comfortable on the job and when the employer agrees that the job is being done satisfactorily, the support person backs off.
A step up in the program is made when a participant feels ready to go into the working world on his or her own.
"The long-term plan is to go out on their own," said Gonzalez, "but they decide when they're ready." For some, that may be never.
The job placement rate for the Sunnyside site is 35 percent this year. "And that's good," said Gonzalez.
Participants are all employed by Provident Horizon Group, who contracts with employers. The employers pay Provident, and Provident pays the participants.
"We pay them a minimum of $8 an hour for general work, as much as $11.50 an hour for more vocational type work, like welders," said Gonzalez.
Provident also has a temp service, offering short-term employment to businesses who might need a receptionist, or other worker, to fill in.
The merger, Leadon said, has cut down on duplication in administration, while the two agencies can still retain their own identification and independence.
"It's more economical to operate as one agency," said Leadon.
"We had the same mission statements and it made sense to merge," said Scott Crimin of Yakima, quality insurance manager.
In his Oct. 3 proclamation, President Bush said: "We recognize and salute the skills, creativity and dedication of working people with disabilities and take appreciative note of their commitment to our Nation and its continued prosperity."
The people he was talking about are the ones who walk into Provident Horizon Group every day to become contributing members of society.