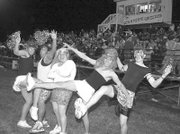 Played before a full house at Clem Senn Field last night, the annual homecoming powder puff game was won by the senior girls 30-6 over the juniors.
The game was powder puff in name only, though.
There were a few tackles and not only did the players wear flags in the flag football contest, so did referees who used them as needed.
No, these girls didn't play like, well, powder puffs. There were diving tackles, goal line stands (two by the juniors), defenses showing blitz and even some trickery on offense, such as a halfback pass.
Senior Yanet Candido made good on two extra point attempts. "That was easier than scoring a goal, you only have to kick the ball up," said Candido, a leading scoring threat for the Lady Grizzlies soccer team.
Then there were the juking, weaving touchdown runs.
Whether it was Kerri Urrutia for the juniors - "That was exhilarating! I had two good blocks and room to run," she said of her 25-yard dash for paydirt - or senior Cassie Jolliff, the game's MVP, making tacklers miss on two touchdown runs these girls came to play.
Of course, there were some differences between powder puff and a typical high school football game.
Players on both sidelines did an impromptu spelling of "YMCA" as the song crackled over the loudspeaker and one or two linemen (linewomen?) were spotted doing the Macarena as the popular dance hit played over the airwaves.
Football means half-time entertainment, and Powder Puff certainly delivered. Student leaders and homecoming royalty all took turns in the fun, including baby food and gummy worm cream pies.
And, yes, there were cheerleaders.
Senior boys donned wigs and make-up in a role reversal to play their part in school spirit.
"We're cheering for our classmates!" senior Joel Gaspar said in explaining his dress ensemble for the evening.
On paper, the seniors won the contest. In spirit, both classes and the school came out winners.
But there were winners off the field as well, as several coats and winter clothing items were donated by fans attending the game.