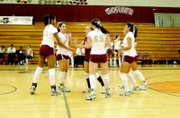 GRANDVIEW - It's tough for any member of the Grandview High School volleyball team to stand out from the pack. That's because nearly all of the Lady 'Hounds are exceptionally skilled at what they do on the court.
But last night, two Grandview players did shine especially bright. Junior Chante Bottineau and sophomore Kealey Johnston led the Greyhound spikers to a 3-0 sweep of a pretty decent East Valley Red Devil squad.
The CWAC victory upped Grandview's league record to 9-1, 21-5 overall on the season. East Valley slipped to 5-6 in conference play via Grandview's 25-16, 25-11, 25-18 win.
Bottineau, Grandview's primary setter, collected 23 assists in Thursday's match with her pin-point lobs that nearly always left the ball in perfect position for a teammate to smash across the net. Bottineau, too, was a dynamo from the service line. She delivered nine serves the Red Devils were unable to return to Grandview's side of the net for a match best nine aces, enroute to tallying 16 service points on the night. She was also credited with nine passes in the three-game match.
The sophomore Johnston was a force with which to be reckoned, as well. She thundered a team best nine kills over the net at East Valley, and came through with a team second best 11 service points. Johnston, too, dished out 24 passes to her teammates in displaying the type of team volleyball Grandview has exhibited all season.
As well as Johnston and Bottineau played, there were other significant numbers posted last night. Tonhya Wysong, the lone senior on the club, was credited with a team best 35 passes. On the other side of the age spectrum, a freshman - Kinzi Poteet - totaled seven kills, three service points, two blocks and five passes.
The stats don't stop there. Sophomore Raissa Licano had five kills, five service points and a block; sophomore Christine Penwell had six kills, two blocks and two assists; freshman Sydney Mottice had five kills and two blocks; and junior Danika Martinez had six service points and one kill.
Grandview, currently tied with Ki-Be for the CWAC league lead, will travel to Othello next Tuesday and will then close out regular season play at home against Toppenish on Thursday, Oct. 27. The District playoffs are scheduled to be held on Saturday, Nov. 5.