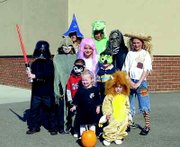 OUTLOOK - Lisa Daniel has been busy lately. She and Chantile Hutchinson are co-chairing this year's annual Outlook Elementary School Halloween Carnival, which will be held on Saturday, Oct. 29, from 5 to 8 p.m.
Daniel and Hutchinson have worked to put the carnival together for the past three years, which Daniel says is an important fund raiser for the school.
"It's our biggest fund raiser," she said.
It helps raise money for all sorts of needed things, Daniel said.
This year's carnival will feature a variety of games. Tickets for the games are four for $1 and food can be purchased too.
Kids who bring school supplies like paper, pencils and crayons to donate to a Katrina relief effort will receive two game tickets.
Games include basketball, a football toss and a duck pond, Daniel said. There will also be bingo and a cake walk.
Parents and faculty help donate needed things like groceries and cakes for the cake walk. They also help man booths and games, Daniel said.
She said last year more than 800 people attended the carnival.
"It's fun." Daniel said. "The end result is a lot of fun."
This year school spirit is something school officials and faculty are looking to help increase. They'll be selling t-shirts and sweatshirts, which they hope will help to increase Outlook Elementary pride, Daniel said.
T-shirts are $5 and $7.50 and sweatshirts are $13 and $20.
Despite the work that goes with staging a yearly event that the school counts on as a source of money, Hutchinson agreed with Daniel that the stress and the time spent are worth it.
"It's fun to see all the kids together with their parents," Hutchinson said.
For more information on how to donate contact Outlook Elementary School at 837-3352.