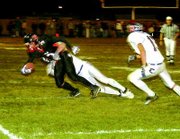 Even with homecoming spirit and a full house Friday, Sunnyside's football team faced a tough chore in tackling Ellensburg, undefeated in league play.
The Grizzlies made the job even tougher on themselves by dishing out more turnovers than Pillsbury in a 48-7 Mid-Valley League loss.
The visiting Bulldogs took advantage of the hospitality, scoring 28 points on four Sunnyside turnovers.
"They're a real good team, but we gave them a short field and it's hard to fight that," Sunnyside Coach Mark Marro said of Ellensburg.
The Grizzlies committed two other miscues which thwarted potential scoring drives.
Of course, Ellensburg's "Monster of the Mid-Valley" line had something to do with the Grizzly woes.
Sunnyside, generally a sure bet to reach the century mark on the ground, was held to just 44 yards rushing on 36 attempts.
Leading rusher B.J. Miller, usually good for four or five yards a pop, could muster only 18 yards on 16 carries against the larger Ellensburg line.
Nowhere was the Bulldog line surge on better display than mid-way through the opening stanza.
After Ellensburg completed a 10-play, 78-yard touchdown drive on the opening possession, Sunnyside responded with a drive of its own.
Facing a third-and-11 from its own 23-yard line, Sunnyside's offense found life with a 12-yard Jaime Sambrano pass completion. Sambrano picked up 15 more yards on a quarterback keeper and Miller bulled his way to the Bulldog-37.
The Grizzlies were rolling, picking up six more yards for a second-and-four at the Ellensburg 31.
Playing in four-down territory, Sunnyside attempted three consecutive running plays to gain the four yards. That's when Ellensburg's line play took over, giving up just two yards on the three rushing attempts to give the ball back to the Bulldog offense.
Still, Sunnyside was in striking distance and trailed just 6-0 in the final seconds of the first quarter.
But a Grizzly pass interference call gave Ellensburg the ball at mid-field and two plays later the Bulldogs found paydirt to go up 14-0 just as the first quarter clock expired.
Things went from bad to worse when a Sunnyside fumble on the ensuing kick-off put Ellensburg up 21-0.
But the Bulldogs were just getting warmed up.
All told, they plastered the scoreboard with 28 points in little more than six minutes to turn a 6-0 edge into a 34-0 romp with six minutes still left in the second quarter.
After making it a 28-0 game on a 50-yard drive with 6:58 to play in the quarter, Ellensburg picked up a Sunnyside fumble one minute later and ran it into the end zone to all but put the game away.
The score remained 34-0 at half-time despite a late Sunnyside turnover that set Ellensburg up in business at the Grizzly-13.
The Grizzlies' fifth turnover again gave the Bulldogs a short field mid-way through the third and they capitalized to go up 41-0 with 7:42 to play in the quarter.
Ellensburg's lead stretched to 48-0 early in the fourth before Sunnyside's second-team offense turned an Ellensburg fumble into a score. The 34-yard drive culminated with a 15-yard touchdown run by Danny Alvarez to make it a 48-7 game.
The Bulldogs were balanced on offense, led by quarterback Randall Affholter's 226 yards on 16 of 30 passing. "They threw the heck out of the ball," noted Marro. "We're young at the safety position and they played against that."
Marro was pleased with his team's second-half effort, getting outscored just 14-7 despite the fact Sunnyside substituted while Ellensburg played their first team throughout.
"We were able to get a lot of people in tonight and we never let up," he observed. "I'm proud of their effort."
Marro said he hopes to see the second half momentum carry over to the Grizzlies' Mid-Valley League finale this Friday at home against Selah.
"It's a good group of kids," Marro said of Sunnyside (0-5, 0-8). "They're just trying to get better each week and looking for a win."
Statistics
Passing:
Sunnyside - Sambrano 7-15-79, three interceptions.
Ellensburg - Affholter 16-30-226, two touchdowns, one interception.
Rushing:
Sunnyside - Alvarez 9-22, one touchdown; Miller 16-18; Engel 1-9.
Ellensburg - Kopczynski 18-92, one touchdown; Yarwood 2-5, three touchdowns; Ulmer 7-26.
Receiving:
Sunnyside - Coleman 3-47, Dolan 2-14, Tyler 1-11, Graham 1-7.
Ellensburg - Roth 7-101; Casper 5-46; Yarwood 2-15, one touchdown; Reeves 1-5, one touchdown.