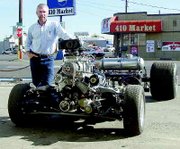 How does spending less money on gas sound? Well, if everything goes the way Doug Barnes hopes, it might be possible to drive a car that gets 120 miles per gallon - and isn't a gas-electric hybrid.
Barnes, who lives in Outlook, and inventor Bob Preston believe they've come up with a way to use ordinary distilled water to vastly improve gas mileage, increase horsepower and reduce emissions.
"The water gets in the engine and gets compressed really tight," Barnes said.
It's that compression Barnes, 51, thinks is the reason for the enormous boost in performance. At high temperatures water breaks down into hydrogen and oxygen, and both are highly combustible.
This process is called thermal breakdown, however Barnes said scientists have told him it's unlikely this process is actually occurring.
But Barnes doesn't care what scientists think.
He and Preston have already proven that ordinary water can increase a car's performance. Their first vehicle, which incorporated water injection on a carbureted engine, boosted the fuel efficiency 500 percent and increased the engine's power to 2,000 horsepower.
Barnes hopes the same can be done with the 350 cubic inch, late-model, fuel injected, super charged engine sitting on a chassis at H & H Auto Glass.
"Our goal is to make the most power with the most mileage with the least emissions," Barnes said.
He estimates that the engine will put out about 1,000 horsepower and get 50 miles per gallon on ordinary unleaded gasoline.
"If we can do this with electronic fuel injection then I predict we could have a late model four-cylinder engine we could equip with water injection and a supercharger," Barnes said, and it's that type of engine that could get up to 120 miles per gallon.
In addition to improving fuel performance, Barnes said the water effectively cools the engine. This cooling reduces friction and reduces overall wear on the engine, thus reducing the amount of maintenance the car needs.
He estimated that a car could go roughly one million miles between service visits.
Barnes said if he's successful, he doesn't want to see this technology limited to just cars. He said the technology could be applied to generators, ships, airplanes and anything else that can be run on gasoline.
There are drawbacks to the idea of using ordinary water.
It could freeze, or a person could run out of water, Barnes said, and that could leave a driver stranded.
But, Barnes believes the problem of freezing water has been addressed. He said pumps can circulate water slowly so it doesn't freeze, or something could be installed in the fuel tank that would keep the water vibrating and therefore wouldn't allow it to freeze.
He also said attaching a supercharger and water injector to a stock four-cylinder car wouldn't work very well because the power created by those additions would make the car too powerful. It would need to have parts upgraded, including gearing and suspension.
Despite the potential to make money off this invention, he said he's not thinking about dollar signs.
This project originally started as a hobby but turned into much more.
"We figure we're on a mission," Barnes said.