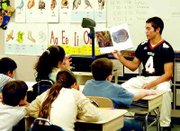 Sunnyside High School football players traded shoulder pads for children's books last Friday afternoon.
The players participated in a fourth annual program at Pioneer Elementary, reading the books to children, then visiting with them afterward.
"This is a great program," said fourth grade teacher Cricket Van Pelt. "It gives the students a role model because the football players tell them how important it is to read and get good grades."
Just as impressive for the fourth graders is that the football players showed up in their home jerseys for the homecoming game later that evening.
"When they see us in our jerseys they go 'wow you're big!'" said Aaron Garcia, a senior linebacker for the Grizzlies. "It really makes us feel needed to get out and read to the kids."
Sunnyside football Coach Mark Marro said his team makes reading visits to the schools about three times a year during the football season.
"The community has done so much for them so this is a way for them to give back," said Marro. "It gives the players an opportunity to share with the kids who really see them as heroes."
That was evident following the reading as football players stayed several minutes afterward to sign autographs and visit with the youngsters.
But the reading afternoon didn't stop in the classroom as Grizzly football players also handed out Willy Wonka-like golden tickets to the youngsters.
The tickets gave each of the Pioneer students free entrance to the homecoming game that night if they were accompanied by an adult.