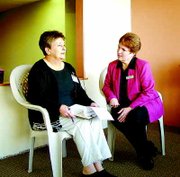 After 12 years, the long-vacant building at Edison and 16th Street in Sunnyside has a tenant, and two more businesses are expected to move in Nov. 1.
All three deal in health care.
Julie Friend, manager of TLC In-Home Care and a life-time resident of Outlook, is already on site and ready for business, even though there is no sign up yet to indicate what service is offered.
"We're working on getting a sign," said Friend, who was still dealing with newly laid carpet, freshly painted and textured walls and repairs caused by water damage over the years.
This was Dr. Richard Kirk's office," said Friend, adding that the doctor was passing by one day and dropped in to find out who had taken his old quarters. She said he was excited to see a little bit of activity.
There will be more activity when Friend gets her feet on the ground. At this time, she is visiting doctors, the hospital, Hospice and other health-care facilities to make them aware that TLC In-Home Care has come to town.
"We opened this to be a satellite office here," said Toni McBean, executive director of TLC In-Home Care in Yakima.
"TLC is part of a national company that owns a lot of health care facilities," she added. "We offer three levels of in-home care."
McBean said she heard there was a need in Sunnyside for in-home care, and she and Friend, who worked a year as a caregiver for TLC, had been talking about the move for a long time.
Three clients have signed with TLC since it opened Oct. 1. The agency has hired 16 caregivers from the Lower Valley to dispatch to them and future clients who want help with cooking, cleaning, personal care, transportation or companionship. TLC also offers total assistance, which includes feeding, dressing, bathing and transferring the client to a wheel chair, and respite care, which could be just several hours to allow the primary caregiver some free time.
"We do free assessments to make sure the client doesn't need skilled, nursing help, because we don't do that. We do that free because I feel that should be part of the service," said McBean.
McBean and Friend said there is no disappointment in having only three clients in the Lower Valley at this time
"It could take months for somebody to decide they need care. And a lot of people think in-home care is just for the elderly, but we can give care to anyone who needs it, maybe home from the hospital to recuperate or the developmentally disabled," said McBean.
When Friend gets the business to the point where much of her time will be spent on drop-in visits to clients to see how things are going, a receptionist will be hired.
"By law, (an agency) is allowed to wait six months to make a phone call to a client to see if everything is going well, and a year before going into the home," said McBean. "A lot could happen in six months, so within 72 hours we are back in the home talking with the family and the client, asking if the quality of care being received is what they expected. And we like to do drop-in visits."
TLC In-Home Care is sustained by private and insurance pay.
The other two businesses expected to take office space in the same building are Senior Avenues and Mt. View Home Health, a service that provides nurses, occupational and respiratory therapists when prescribed by a doctor.
The three have no business ties to one another, said McBean, "but we all believe in each other's high standards."