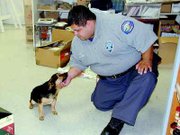 GRANDVIEW - Animal control for the city of Grandview starts and ends with Luis Valdez.
"We're a department of one," said Valdez as I accompanied him on rounds the other day. A former reserve officer for the Grandview Police Department, Valdez has been the city's "dog catcher" for nine years.
Though he does respond to a lot of canine calls, Valdez will be the first to tell you his job is for the birds as well.
"I've responded to calls where birds or bats have gotten in houses," he recalled. "One time there was an owl which became disoriented and flew into the side of a house."
He's also captured chickens, skunks and even one time a pig. "That was hard," he said as we made our way to respond to a call of a found puppy. "The whole police department had to come out to round up the pig because it was running in the streets."
It's a dirty job, too, Valdez will tell you. "Sometimes you have to crawl under houses to get animals out and you have to clean-up after them," he said.
Not only that, his job also includes bites. "I've had a lot of dog bites," noted Valdez, who added that the key is disinfecting the wound right away.
So why does he do it, day after day - responding to animal complaints, dealing at times with unruly pets (and sometimes their owners) or having to chase away folks walking their dogs in Grandview's parks?
Remember that call of a found puppy we were enroute to?
Seems Debby Tucker at the liquor store found the puppy and housed it temporarily.
As the puppy, which she called "Charlie," licked Valdez's hand he learned from Debbie that another Grandview resident had already decided to give it a home. That, in turn, saved the dog a trip to Grandview's animal control facility.
"I get happy about things like that," Valdez said as we got back in the animal control rig. "The job is stressful but finding a dog a home or finding its owners makes it all worthwhile."
As we turned down a street to deliver a humane skunk trap to a family dealing with two under their house, Valdez added, "I take great pride that even though we (as in he) are a small department we can serve the city and its animals."
As we made our way back to the station Valdez waved to family barbecues in the front yard and residents around town.
Everybody knows him, it seems.
And for good reason. He is a lifelong resident and, after all, he is their dog catcher.
"It's a great job," Valdez said with a smile. "There's always something new every day and I get to help people in the city I love."