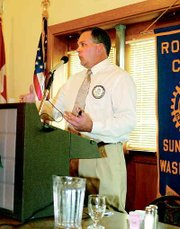 Sunnyside High School Athletic Director Bill Daley was the guest speaker for the Sunnyside Noon Rotary Club meeting on Monday.
Daley spoke about the school district's vision of new athletic facilities, particularly a new football stadium.
"Our current facilities are lacking," Daley said. "They are not up to date."
The school district is currently planning for field and facilities development at the new middle school, Sierra Vista. In order to ensure equity and fairness, district officials have requested their architect to develop a comprehensive plan for Sunnyside High School and Harrison Middle School fields and athletic facilities.
The two schools currently use Clem Senn Field for two or three events a day during the fall and spring seasons.
The new football stadium would be built on the existing track field. This would free up the space currently used for the existing football stadium for use in health and PE classes. The proposed costs of simply renovating the exisiting football field is nearly $1 million. These improvements include a new field surface and stadium seating.
Instead, the goal, said Daley, is to be build a stadium that can seat between 4,000 and 5,000 people. He said the stadium would be used for sporting events, graduation, State playoffs and District championships, political rallies and Valley church gatherings.
Daley said school district officials believe a new stadium would be good for economic development as well. The stadium could host area events, outdoor concerts, auto shows and art fairs, farmers markets and craft fairs and a Sunnyside Relay for Life event.
Daley said the events that can be housed at the new facility could possibly generate about $5,000 per event in gate and concession revenue. The spin-off revenue from each event could total $20,000 for area businesses, such as restaurants, hotels and convenience stores.
The new synthetic turf proposed for the new high school football stadium would have a life span of about 15 years and is said to be safer for students while reducing injuries.
The school district is estimating the cost of a new facility at $4 million. There are four ideas to secure the money needed.
The choices, according to Daley, are to use part of an existing $11 million bond that has been rolled forward to $43 million, run a new $4 million facilities bond to be paid back over 20 years, pass a non-voted bond debt of $4 million with a 10 year payback or secure a revenue anticipation note for $4 million, also with a 10 year payback.
"It's an ambitious vision but a positive vision," Daley said.
Daley said he anticipates the school board will start discussing the sports complex in December.