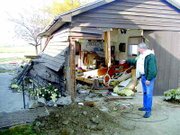 At 2 a.m. this past Sunday morning Shirley Hazzard heard such a clatter, she jumped out of her bed to see what was the matter.
And what to her wondering eyes should appear, but . . . a car in her back yard.
"I thought it was an empty trailer bouncing off the pavement," said Bob Hazzard. "Shirley looked out the window and didn't see anything, but then she looked out the back window and said, 'You won't believe it. There's a car sitting in the back yard!'," said Bob.
According to the Yakima County Sheriff's Department, Kristie Getsinger, 18, of Granger was driving her vehicle west bound on Wellner Road when she fell asleep, woke up and attempted to brake, but pressed on the accelerator instead.
"She struck a fence, and went through a building in the 300 block of Dekker Road, traveling through the east wall, then came out the south wall and came to rest in the yard," said Lt. Dave Thompson.
The building was a hobby shop in which Shirley makes dolls.
According to Bob Hazzard, the driver was on her way home from a babysitting job on Wellner Road
"I'm unhappy it happened," said Hazzard, viewing their newly-air conditioned building, "but I'm not displeased with her (the driver), because we know accidents can happen.
"We were just tickled pink that she wasn't seriously hurt. We can fix a building, but you can't replace a life or a limb."
Getsinger was not treated at a hospital at the time of the accident.