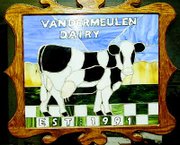 A new hobby store opened up in Sunnyside recently. Dairyland Stained Glass supplies and gifts at 1990 Chaffee Road had its grand opening Saturday, Oct. 15.
The store is owned by Judie Van der Meulen and offers classes on working with stained glass as well.
Van der Meulen got into working with stained glass when her friend Anna Veldhuis made her a stained glass rose for a 'get-well' present while Van der Meulen was in the hospital.
Van der Meulen loved the present but had no real thoughts about getting into the hobby until she found out her illness would prevent her from returning to work at the family dairy.
For something to do she asked Veldhuis to teach her how to work with stained glass. "Because we've been good friends I was willing to teach her," Veldhuis said. She added, "she was a good student."
Van der Meulen's first project took about two weeks to finish. "We're always learning," she said. "We learn something new every day."
After her first project, she was hooked on stained glass. She started working with it more and more but ran into a problem.
"I love doing stained glass but there is nowhere to buy the supplies around here," she said.
So, three months ago she decided she would open up her own stained glass supply store. Se also wanted to teach classes so other people could learn how to work with stained glass.
Dairyland Stained Glass is open Monday and Tuesday from 11 a.m. to 8 p.m. and 11 a.m. to 5 p.m. on Thursday and Friday. The store is closed on Wednesdays and open by appointment only on Saturday and Sunday.
Beginner classes are free.
Besides offering classes and selling supplies, the store also sells finished products as well. Some of these products come from local artists.