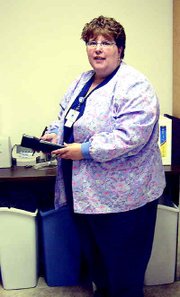 If you are one of the thousand or more people whose jobs required drug or alcohol screening in the past year, you probably know the smiling face of Betty Jo Leija.
"I'm the BAT in the building," claimed a laughing Leija. "And, if I were much older, I'd be an old BAT!"
Actually, Leija is a Breath Alcohol Technician, who also is licensed to screen for drugs.
For 13 years she has been the lone employee of Occupational Health Services in Sunnyside, which provides urine and hair drug screens as well as breath alcohol testing for most of the major businesses in Sunnyside who require drug and alcohol testing for their employees.
At least once a week, some employer will call to have Leija test an employee who comes to work reeking of too much fun from the night before.
"I do test at the request of employers on suspicion or reasonable cause," said Leija.
She also is called by employers to do drug and/or alcohol testing after accidents, as much to rule out their presence as to identify it.
Leija does none of the lab work at her small office, which is located at the back of the Sunnyside Medical Center on Lincoln Avenue.
"I do collection only and send it to a designated lab," she explained.
Sometimes she doesn't even see the results, if the screening is done for a large company with headquarters in, say, New York City. "The results would then be sent to whomever was designated," she said.
"In addition to screening, I also arrange for physicals and other medical work to be done at Lincoln Avenue Family Medicine, when they're required by employers," said Leija. That medical work might be immunizations, tuberculosis testing, or vaccinations for Hepatitis A and B.
"I don't do any of that, but I arrange for a nurse to go out and give shots, such as flu shots," she said.
"Any major business in the Lower Valley uses our services in one form or another," said Leija, who added that, on any given day, she might give only five drug tests, but on another day might give 35. Although she doesn't keep count, she knows she does well over 100 tests in a month.
Leija started in the business as an employee with Dr. Lloyd Butler, who owned Occupation Health Services until he retired last year and sold it to Sunnyside Community Hospital.
"I really liked working for Dr. Butler, but, in my opinion, not much has changed. The job is still the same and my duties are still the same. I just answer to someone else," said Leija.
Adjusting to change seems to be second nature to Leija, who, after 15 years of marriage, had to make the switch to solo flying.
"The biggest adjustment was financial," she said. "I was raising three boys and buying a home on a single income, which doesn't go very far. It was rough going."
The nature of her job, which requires but compensates her to be on call 24-7, made it unnecessary for her to look for a second job. "When I get called in after my regular work day, it's like working another job," she said.
Leija has been through a range of experiences since she graduated from Sunnyside High School. She was working even then, at the Star-Lite Drive-in Theatre in Sunnyside, where she worked until she was 22 years old. She spent a year at Central Washington University, worked for a Sunnyside law firm for seven years and another five years for a radiologist whose office she managed.
Leija did a short stint as office manager at a gas company where one of her duties was filling propane cylinders. "I hated it; it was scary," she says, shuddering. "Safety was always in the back of my mind."
That fear urged her to seek other employment, and she was tipped off to an opening at Occupational Health Services by a cousin who worked at the hospital and was keeping an eye out for a suitable job for Leija.
"Dr. Butler pretty much hired me on the spot, but I had to give a notice, so I worked mornings at the gas company for two weeks, training my replacement, and trained with Dr. Butler in the afternoons for my new job," said Leija.
The change has proven to be a good one for her, she said.
Her leisure time is spent mostly with her family. With three boys whose ages range from 11 to 18, Leija said she is on the road a lot.
"My spare time is always running kids from one game to another. They are all in sports," said Leija. "I love sports, love watching my kids play tennis, baseball and basketball, videotaping the game or taking pictures . . . oh, and yelling!"
She said she is also an enthusiastic Bingo player at St. Joseph's in Yakima "whenever I get a chance". Her grand passion though is hunting coupons.
"I once told Mrs. Smith at Smith's Funeral Home, if they had a coupon in the paper, I'd cut it out and use it. I really am a coupon hunter, looking for the best deal at the cheapest price. That's about the only way to make ends meet!"