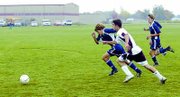 The third time wasn't the charm. Moses Lake Christian Academy traveled to Sunnyside Tuesday afternoon to play the Sunnyside Christian High School soccer team for the third time this year.
And for the third time this year, Moses Lake beat the Knights, this time 2-1 in a tough, physical game that had to be decided by a shootout.
The first half, both teams failed to score a goal.
"There was not a lot of offense in the first half either way," Sunnyside Coach Russ Smies said. "We played well and moved the ball well."
SCHS had one shot on goal in the first half and the Lions managed two shots.
"It was getting pretty physical out there and as the game progressed, it became more intense," said Smies.
The second half took up where the first half left off. Lots of action but no score. Then in the 59th minute, things changed.
Jarod DeTrolio scored for the Lions to make it 1-0.
"There was a slight misplay on defense but the ball took a Moses Lake bounce," Smies said. "I can't blame one single person, things just fell together for them. It was a confusing play."
Aaron Van de Graaf responded one minute later. Taking the ball at center field, Van de Graaf took the ball down field and made a horizontal shot that confused Moses Lake's goalie to even the game at 1-1.
"Aaron really stepped it up for us yesterday," Smies said. "He's got a lot of intensity. You get him fired up and he's an important weapon."
With the score tied at the end of regulation, the teams played two five-minute periods before having to settle the game in a shootout.
Moses Lake was up first and Sunnyside keeper John Bosma stopped the goal. Van de Graaf then put SCHS in the lead when he booted the ball in for a score.
The Lions scored on their second time up but so did Joel Koopmans to give the Knights a 2-1 advantage. Moses Lake tied it at 2-2 before Nick DeJong made it 3-2 with his score.
DeJong's goal was the last for the Knights as the Lions scored on their last two opportunities to win the shootout 4-3.
Even with the loss the Knights still clinched a playoff spot with Trout Lake losing. There is a good chance the Knights could end up meeting Moses Lake for a fourth time in the playoffs.
Smies said the first loss to the Lions was 7-0 and the second loss was 4-2. They've narrowed the gap considerably and the Knights aren't intimidated if they must play Moses Lake again.
"In the playoffs we either break through or start falling back," Smies added.