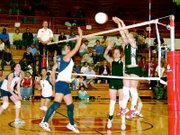 On senior night, Sunnyside's volleyball team stretched its 2005 campaign by at least one game with a 3-0 home win over Wapato in the regular season finale.
The victory wrapped up the Mid-Valley League's sixth and final berth at districts. Sunnyside will play either tourney host Ellensburg or West Valley in a first round match this Saturday at 11:00 a.m. Winner of the loser-out match will advance to regionals.
Junior Kerri Urrutia opened up a close first game with eight consecutive service points, including three aces, to put Sunnyside up 14-5.
The visiting Wolves found some momentum of their own, closing to within 19-15 before a Claire Schilperoort kill stemmed the tide.
Alexis Ramos served the Lady Grizzlies to a 23-15 advantage as Sunnyside held on for the 25-17 game one win.
Sunnyside (2-10, 4-14) opened the second with a 6-0 lead before Wapato again answered, this time it was a 12-6 run sparked by the Wolves' Latisha Adams.
With the game tied 12-12, Schilperoort again helped fend off the Wolves with a timely kill and two service points.
But the advantage wouldn't last as Wapato knotted the contest at 16-all, then took its only lead of the three-game match at 20-19. Both teams swapped serves before Sunnyside senior Christy Linde jump-served the Lady Grizzlies to a 25-22 win.
That set the stage for game three, which Sunnyside dominated throughout. In true senior night fashion, senior Katie Weets made the most of sets from Urrutia and Sami Jo Sartin to dominate the net for Sunnyside.
The Lady Grizzlies raced to a 20-9 lead, then withstood a final Wapato surge to prevail 25-17.
"Our offense is getting better and better, we're gaining more confidence in our sets," noted Coach Angel Carrizales.
She praised her team's ball control, which delivered dead-on sets that allowed kills ranging from Weets' soft taps over the net to floor rattlers by Linde.
The confidence boost from Tuesday's win will also be helpful as Sunnyside enters districts as the bottom seed. "We're going to work on our serve-receive game and try to keep our ball control on target," Carrizales said.