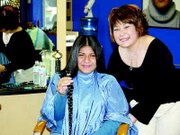 Ten years is a long time to let your hair grow. It's also quite a shock to lose that much hair with one snip of a pair of scissors, but that's what happened to 15-year-old Jessica Alicia Vidales - and it was her choice.
The Sunnyside teen made a promise to donate her long hair to Locks of Love, a program that makes hair pieces for children out of donated hair, after her quinceañera.
"When I went to the (Children's) Hospital in Seattle it made me feel bad," Vidales said.
Seeing children without their hair was the reason she decided to donate, she said.
Vidales had her hair cut at Raquel's Hair Boutique, after which it was placed in a plastic bag to be sent to Florida, Vidales' mother Martha said.
"I feel proud of her," Martha said.