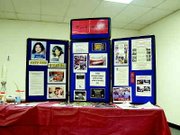 Crank, speed, crystal meth - methamphetamine has many names.
Tuesday night, several dozen people attended a program called "Life or Meth, What's the Cost?" at the Parent Information Resource Center to hear about what methamphetamine is, how it's made, why people take it and what it does to the body.
Yakima County Meth Detective Ron Shepard began the presentation with video of two people who were meth addicts. The pair described in graphic detail how meth affected them. Causing long periods of high followed by several hours, sometimes even days, of low.
Shepard went on to describe in detail how meth is made and told audience members that specifics of how to make the drug can be found on the Internet.
"They're very, very accurate," he said of the Web site recipes.
An audience member posed the question: What can be done to shut those Web sites down?
"Nothing can be done to ban those sites according to the constitution," he said.
Shepard also described in great detail the risks people who make the drug, called "cooks," take to obtain the chemicals needed to make the drug.
Risking advanced aging, blindness and even death, cooks us a variety of chemicals that should only be handled by people who know what they're doing, he said.
Its main ingredient, pseudoephedrine, is legally available over the counter in grocery stores and pharmacies across the state. However, he said it's needed in large amounts, and the state has done a lot to try to restrict the sale of such drugs in large quantities.
Other things necessary for the the drug's production are available too, like solvents and lithium, found in batteries.
Shepard also discussed the reasons people take the drug.
No. 1, he said, is sex.
The drug enhances sexual pleasure, but only for a while. After about six months, Shepard said addicts need to start upping their dosage to get the same high.
And addicts are willing to pay a high price to get that feeling.
Theft is the top way addicts support their habit, Shepard said, and specifically identity theft.
Addicts have plenty of time to forge checks and steal mail in an attempt to support their habit, he said.
Over time, meth starts to cause brain damage. Shepard showed a set of brain scans and damage from meth very closely mimics the damage caused by Parkinson's Disease.
Lesser effects of the drug include paranoia, sleeplessness, weightloss and tooth loss.
In addition to Shepard's work on meth cases in Yakima County, he said he's got personal reasons for giving presentations.
His brothers were both drug addicts, and he said he worries every time he can't get ahold of them.
Though the topic was serious, Shepard found time to lighten the mood by making jokes.
"In 1990 I swore to God that I'd never go into a meth lab," he said. "Several dozen meth labs later..."
Sunnyside Police Chief Ed Radder thinks the situation is serious.
"An informed public is important when dealing with most issues," Radder said.
Radder said when parents have the information about drugs like meth they can address problems rather than the symptoms. That's why it's important to get information out to the public, he said.
For more information on meth visit www.lifeormeth.org.