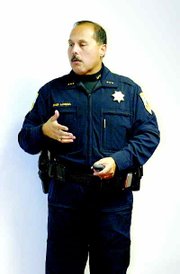 MABTON - The first of a series of planned Block Watch meetings was held Wednesday night in Mabton. Frustrated citizens and Mabton police met to discuss ways to keep crime down in the city.
A Block Watch is a formal network for citizens to exchange ideas and information with their neighbors and with the police. Residents learn how to become the eyes and ears of the police, reporting on suspicious or unusual activity.
Mabton Police Chief Raul Almeida said, "neighborhood Block Watch has proven itself as one of the most effective ways for citizens to get involved in the fight against crime.
"The fact is, the police cannot alone control crime, they need the help of an alert and concerned public," he added.
Mabton Police hope to teach members of the Block Watch tips on personal safety for themselves and their families. They will never be asked to perform law enforcement duties. Police want them to learn who is home, who is supposed to be there.
"Eighty to 85 percent of crimes are solved with witnesses," Mabton Police Officer Mike Britton said. "Block Watch is the best way for everyone to get involved."
Police said for the Block Watch to stay effective, the members must be committed to making it work. "This has to be continuous," Britton added.
Almeida said Mabton residents need to call the police if they see any suspicious activity. He said to call 911 for emergencies and 836-6200 for non-emergencies. Citizens must also learn how to report suspicious persons or activity.
Police would like a description of the person's clothing, height, weight, hair color if possible. The make of a car or most importantly, the license plate number, is also needed.
Mabton Police also reminded the residents not to be afraid to call or 'bother' the police. Almeida said the residents are the best people to judge whether something is normal or not normal in their neighborhood. Even if your call turns out to be a false alarm, it is better to let trained police officers make that determination, he said.
Almeida informed the citizens that by the third meeting police will start conducting classes to help members of the Block Watch. Almeida will be teaching some self-defense techniques. A sexual assault and domestic violence class will be taught by Officer Britton and Officer Bayona, another Mabton police officer, will be teaching a class on street crimes.
In the coming weeks police will be conducting a crime prevention assessment of the city. All street lights will be checked to make sure they are working properly.
Chief Almeida urged more residents to become involved. The date of the next Block Watch meeting has yet to be determined but it will be announced.
"Communication is the key element," Almeida said.