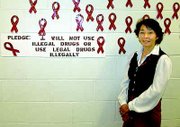 GRANGER - Brenda Sipes stood in a third grade classroom at Roosevelt Elementary School Wednesday afternoon. After asking students what drugs are illegal and handing out bracelets to students who could come up with answers and showing a display of drugs and candy that look similar she had the students take a pledge.
All week long students have been taking that pledge; a pledge not to use illegal drugs or legal drugs illegally.
It's all part of Red Ribbon Week. A week that commemorates the death of Drug Enforcement Administration Agent Enrique Camarena, who was kidnapped by drug lords, tortured and killed in 1985.
All week, Sipes, Roosevelt's new intervention specialist, has been taking that message to kids through presentations in classrooms every day.
"There's not much to do here, that's why there's such a drug and alcohol problem," Sipes said in a whisper after losing her voice from all the presentations she's given.
Granger is also a high poverty area, she said. Because of those reasons each of Granger's schools now has its own intervention specialist, she said.
For Sipes, elementary school students are much different than the students she dealt with last year.
Last year Sipes was at the high school. She said she didn't know how working with children would be.
"I didn't think I'd like working with children," Sipes said. "But I like it; it's great."
For Sipes it also means dealing less with actual drug and alcohol use and more with prevention.
At the high school, Sipes said most drug and alcohol use was experimental. But at Roosevelt, her job is more about educating students at a young age the harmful effects of drugs and alcohol in an attempt to decrease substance abuse later on in life, she said.
Her position is sub contracted from MERIT Resources Services, which helps provide counseling for drug and alcohol problems, and has offices throughout the Yakima Valley.
Not only does Sipes, 44, work at Roosevelt, but she's also a full-time student at Heritage University. She said she'll receive her Bachelor's degree in psychology at the end of the next semester and then plans to begin work on her Master's degree in counseling.
All this in only five years in the area.
Sipes moved to Outlook in 2000 from Sacramento, Calif. She said it's a lot different from California but it does remind her of somewhere else she's lived.
"It reminds me of where I was born and raised," she said.
That was in Colorado.
While she was in California, Sipes worked mostly with developmentally disabled adults. She worked as a job coach, helping adults with disabilities do the things that normal people take for granted, she said. Things like getting to work, and keeping a job.
In her spare time Sipes said she likes to make Native American pottery. She's even sold a few pieces. Not enough to make a living, however.
Though it's different, living in this area has its benefits.
"There are a lot of opportunities," Sipes said.