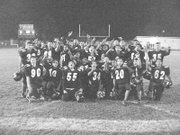 A 17-game losing streak, dating back to when they were eighth graders, was snapped this week by the Sunnyside High School freshman football squad.
The Grizzly frosh squad, after opening this season with six consecutive losses, defeated Ellensburg's freshmen this past Monday, 30-7.
"You can't believe how happy we all were," said Sunnyside Coach Glenn Braman.
The goal at the beginning of the season was to chalk up at least one hash mark in the win column. Not a lofty goal by many people's standards, but one which seemed improbable to a group of boys who came into the season with little or no experience playing organized football.
"It was nice to see the kids reach their goal," said Braman. "For a lot of them, it was their first taste at success."
The star of Monday's game was Sunnyside's Justin Smotherman. He set the tone on the very first play from scrimmage, throwing a pass to Victor Campos that resulted in a 70-yard score.
"It was a double pass," said Braman, explaining that QB Michael Rodriguez lofted a pass to Smotherman behind the line of scrimmage, who in turn heaved the ball to Campos.
"We caught them off guard," Braman said of the trick play.
Sunnyside was able to take a 12-7 lead into halftime thanks to a 15-yard or so scamper that carried Smotherman into the end zone.
After the halftime break, Smotherman scored again, which increased Sunnyside's lead to 18-7. He hauled in a pass from Rodriguez and scooted 40 yards to pay dirt.
Rodriguez boosted the Grizzlies' lead to 24-7 when he hooked up with David Clara on a 25-yard touchdown toss. Teammate Albert Barcenas, third on the team's running back depth chart, put the icing on the cake for Sunnyside with a 20-yard scramble into the end zone.
"Albert's touchdown run was kind of a bonus," said Braman, explaining that he had his reserves in the game against Ellensburg's starters.
Braman went on to commend his team's defensive efforts, noting Sunnyside came up with several fourth down stops in the red zone to stop potential scoring drives. "We also came away with a couple of turnovers in the game," he said.
The Sunnyside freshmen close out the season next Monday at home against Selah, which defeated the Grizzlies in the season opener, 67-0, back in early September.