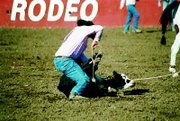 Levi Wiersma is barely old enough to drive a car, but he's been participating in rodeos for more than two-thirds of his life.
The 16-year-old Sunnyside High School junior is participating in high school rodeo this year for the first time after participating in junior rodeos and rodeos in general since he was five years old.
Wiersma, along with junior Sami Jo Sartin and sophomore Alyssa Boogard, have competed in rodeos this fall all over the state. They've participated in rodeos in Vancouver, Colfax and Ellensburg, and Mount Vernon last weekend.
"It means a lot to me," Wiersma said. "It keeps me busy."
Wiersma competes in two events, tiedown roping and team roping, he said.
Sartin, 17, competes in girls cutting and barrel racing. She also plays volleyball at Sunnyside, so she's had to limit the number of rodeos in which she's participated.
The rodeos are put on by the Washington State High School Rodeo Association. Though the events are held on weekends, they are essentially two different rodeos; one held Saturday and the other on Sunday.
Points are accumulated and the top point finishers in each event go on to the state finals and have the opportunity to go to the national high school rodeo finals if they qualify, Wiersma said.
Just to apply for membership to the association, students must provide high school transcripts and pay a $300 application fee, Wiersma's mother, Patsey said.
She said in addition to the application fee participants may pay up to $150 in entry fees for the events. With the high price of gas, a weekend could run as much as $300 for food, diesel and entry fees.
Despite the high cost of getting to and participating in the events, Levi said he helps pay for part of the cost of a weekend. He said he works, and he uses some of the money he makes to pay for diesel.
The high school rodeos are much more intense than junior rodeos. The competition is much better, Patsey said, and that level of competition is good for her son and the other rodeo competitors because the level of competition is much more professional.
"It's totally different than he's used to," Patsey said of her son.
She said that level of competition also helps to weed out some of the weaker participants and helps those who have the talent for rodeo figure out whether they might be able to do rodeo on a professional level.
For now, though, competitors have to be happy with meager prize money. Levi said for a third place finish in tiedown roping he won $17.
As a result of small prize amounts and the expense of getting to and from rodeos, "sponsors are always welcome," Levi said.
He said most people at his school don't even know about the team. He also said he wished more people knew.
"It would be nice," Levi said.
But for now high school rodeo participants must suffer the anonymity that goes with a lesser known, sometimes dangerous sport.
Even with the danger, Levi said he's never been seriously injured, nor have his teammates. Their events are rather tame, he said. The worst injury he's suffered have been rope burns, he said.
"Injuries are not a big concern," he said.
Serious injuries do occur, though. Levi said he saw one competitor severely injure his arm. He's been out ever since.
Alcohol and tobacco use are things that are watched carefully, Patsey said.
She said every rodeo competitor must wear his or her number even when not competing so, if a problem does occur, it's easy to figure out who was responsible and how to fix the problem.
Right now though, Levi isn't thinking about doing rodeo professionally. "If I become good, maybe," he said.
Would he like to have more support from his fellow students?
"Yeah," he said. "I think it would be cool."
Sartin, however, thinks things are OK the way they are.
"I kind of like it the way it is," she said. "I kind of like the fact that not a lot of people know about it."