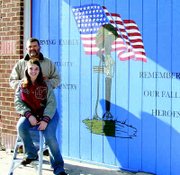 GRANDVIEW - Ashley Lara isn't thinking about the normal things a 17-year-old girl thinks about - at least not right now.
The Grandview High School senior is more concerned with showing her appreciation to the members of her community that have done so much to protect the freedom she and all of us enjoy.
That's why she and her father Sabio have been working on a mural on the front of Grandview's Veterans of Foreign Wars (VFW) Post No. 6929 building located at 132 Division St.
The pair said they've been working on the mural for the past two months.
"I just wanted to do something for this post and all the veterans; to show them thanks," Ashley said.
All their hard work has paid off. The post will hold an open house on Nov. 11, Veterans Day, which will unveil the mural and give members of the community, veterans and anyone who wants to the chance to see first-hand what the pair have been working on.
Louise Bianchi, auxiliary chaplain for the Grandview VFW Post, said the event will begin at about 6 p.m. It'll include a potluck dinner, and everyone who wants to attend is invited.
Creating the mural hasn't been without its challenges. The Laras had to do a lot of matching of specific colors, they said, and research to make sure the mural was accurate.
"We couldn't find a decent picture of a rifle," Sabio said.
But after some sketching and some planning the two got their design, which was initially sketched out, traced on the wall and were able to start painting.
Ashley said she wanted to create a mural that was universal for all wars and conflicts. That's why it contains a single rifle in front of an American flag with a soldier's helmet on top.
Though the mural hasn't been terribly expensive to create, Sabio said the VFW said they'd pay for supplies needed to create it. They painted the background, but Sabio said he has paid for the other paint used and his out of pocket expenses haven't been too much.
This is Ashley's first exposure to publicly displayed art, but she's been very active in veteran matters.
She's been a guest speaker at several events, including Memorial Day, Sept. 11 and Veterans Day events, she said.
She even organized a tribute to armed forces at the first Grandview football game of the season.
Sabio also has reasons for wanting to support veterans. He served in the U.S. Marine Corps from 1973 to 1976, he said.
With her father's help, Bianchi said Ashley has created something special in the community.
"She's an amazing girl," Bianchi said of Ashley. "She very much realizes what's going on."