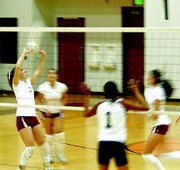 GRANDVIEW - Co-champions! It doesn't have quite the same ring to it as outright champs, nonetheless, the Grandview High School girls volleyball team will move on to the postseason with every bit the swagger of a conference titlist.
Last night, the Greyhounds soundly defeated the visiting Toppenish Wildcats, winning in three straight games. The victory, coming in Grandview's final regular season match of the year, earned the 'Hounds a tie with Kiona-Benton for top honors in CWAC South Division play.
Both, Grandview and Ki-Be compiled 11-1 league records this season. Grandview swept the Bears in three straight games on its home floor back in mid-September, but Ki-Be returned the favor in mid-October, winning three games to one on the Bears' home court.
The 2A District playoffs will begin next Thursday, Nov. 3, and will conclude Saturday, Nov. 5, at Ki-Be. The top finishers at District will move on to the State tournament, to be staged at the Yakima SunDome Nov. 11-12. Grandview will enter postseason play with an overall mark of 23-5, which includes several victories over state ranked 3A and 4A teams.
In defeating Toppenish (2-10) Thursday evening, Grandview was never pressed on its home court. Displaying the teamwork they have shown all season, the Lady 'Hounds rolled to 25-4, 25-10, 25-12 victories.
A quartet of Lady 'Hounds dominated the play at the net last night. Freshman Kinzi Poteet slammed five kills against Toppenish, and coming through with four unreturnable slams apiece were sophomores Raissa Licano, Christine Penwell and Kealey Johnston.
From the service line, junior Chante Bottineau collected a team high 22 service points, which included ripping nine ace serves that Toppenish was unable to put into play. The trio of Jessica Gonzalez, Johnston and Poteet combined for nine ace serves.