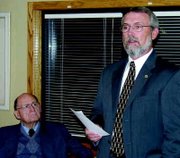 Lower Valley legislators were in Sunnyside Friday morning to discuss initiatives on the November general election ballot.
The session, hosted by the Sunnyside Republican Club at the Sunny Spot restaurant, featured 15th District Representatives Bruce Chandler and Dan Newhouse, as well as State Senator Jim Honeyford.
Newhouse spoke in favor of I-330, which, with some exceptions, limits non-economic personal injury claims to $350,000.
"No initiative or bill is perfect," said Newhouse. "But it (I-330) offers an opportunity to move forward." Chandler added that several doctors have left the state or are limiting their practice because of high malpractice insurance rates. Honeyford commented that, even in L&I cases, lawyers are taking 30 percent and more of the awards that are received.
But Newhouse declined support for I-336. "It doesn't go far enough," he said of the proposal which would establish a supplemental malpractice insurance program in the state.
Discussion on I-336, and its three strikes proposal on doctors, drew chuckles in the packed room. "They're calling for three strikes on doctors," said one elderly gentleman in the audience. "Why don't they have three strikes for lawyers!"
Chandler spoke in opposition to I-901, which proposes a ban on smoking indoors.
"This will prevent smoking in Eagles, VFW and military association clubs," Chandler noted. "It would ban smoking except in Tribal casinos. That's something worth thinking about."
Chandler claimed that ventilation technology exists to isolate the smoke from smoking sections so it does not spread to other areas.
The 45-minute session at the Sunny Spot closed with legislators expressing appreciation for the opportunity to speak and to serve their Lower Valley constituents.
More like this story