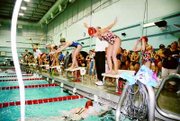 ELLENSBURG - Pullman High School won the District Championship this weekend, running away from the field of 11. Sunnyside High School finished in 8th place but saw one of its swimmers advance to state.
In the 200 medley relay, Sunnyside's Bailey Morris, Megan Razey, Katie Knee and Rachelle Durfey teamed up to finish in 8th with a time of 2:14.35.
In the 200 Individual Medley, Katie Knee swam to a 6th place finish in a time of 2:31.85 just missing 5th place by .33 of a second.
Rachelle Durfey took second place in the 50 freestyle. Her time of 26.24 secured her a spot at the state finals.
In the 100 freestyle Durfey took 4th place with a time of 59.82 and Knee followed her in 6th place with a time of 59.99.
Durfey, Brittany Bonilla, Julianna Robert and Razey teamed up in the 200 freestyle relay. They finished with a time of 2:10.36, good for 8th place.
Bailey Morris's time of 1:22.88 was good for 22nd place in the 100 backstroke and Bonilla took 25th in 1:34.76.
In the 100 breaststroke, Razey and Robert finished 20th and 21st respectively with times of 1:30.72 and 1:35.68.
Sunnyside again took 8th place, this time in the 400 freestyle relay. Knee, Bonilla, Robert and Morris teamed up for a time of 5:01.08.