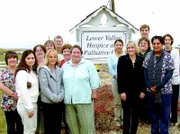 Hospice and palliative care available in Lower Valley
We are a nation of planners. We plan for weddings, the birth of a child, college and retirement. Sometimes we spend months planning for vacations.
Many Americans even plan for more difficult situations by writing wills, purchasing life insurance and giving consent for organ donation.
Yet far too many people wait until they are in the middle of a health care crisis before learning what options are available or what care they or their loved ones would have wanted.
If these plans have not been discussed, families find that a difficult situation can become even more painful.
Only 10 percent of people die suddenly.
Hospice is in place to guide and support the other 90 percent through that final phase of life.
November has been designated National Hospice/Palliative Care Month.
The Lower Valley Hospice and Palliative Care, headquartered in Sunnyside, is committed to raise awareness about quality end-of-life care.
"Palliative care offers comfort and support, while hospice brings compassionate care when cure is not possible," explained Carol Bos, volunteer coordinator.
Lower Valley Hospice recently added the words "Palliative Care" to its name to indicate the expanded service that's been added.
Hospice and palliative care both provide pain and symptom control, dignity and spiritual and emotional care to the dying and their families," Bos noted.
"National Hospice/Palliative Care Month provides a wonderful opportunity to raise awareness of the options of care available," said Joe Stephens, executive director for the Lower Valley agency.
"As hospice professionals, our mission is to serve patients and families, and we're committed to making sure they receive the care they want."
National Hospice and Palliative Care Organization reports that one million patients were served by the nation's 3,300 hospice providers last year. Hospice helped these people live with dignity, comfort and compassion. Hospice and palliative care programs provide pain management, symptom control, psychosocial support and spiritual care to patients and their families. They also serve as important sources of information about care options.
Care services are provided through the combined knowledge and skills of an interdisciplinary team of professionals, including the medical director, nurses, homecare aides, social worker, chaplain and trained volunteers.
While a patient must have an expected prognosis of six months or less to live, hospice care can be provided for six months or longer, depending on the course of the illness.
The HeartLinks Program at the Lower Valley agency is specialized to assist those who do not meet the six-month prognosis requirement for hospice admission. Visits can be made monthly, or as needed.
HeartLinks provides emotional support, community resources, an intake assessment, semi-monthly interdisciplinary team review of patient and family needs and coordination of community services.
Lower Valley Hospice and Palliative Care is state and federally certified, and serves Yakima and Benton Counties.
Hospice is a covered benefit under Medicare, Medicaid in most states and most private insurance plans and HMOs.
"During National Hospice/Palliative Care Month, Lower Valley Hospice and Palliative Care salutes our hospice volunteers. We honor our patient care volunteers who work side by side with hospice professionals in providing support to those in our community when they need it most," said Bos.
"We recognize and celebrate volunteers who donate many hours to administration, the HoBS store and fundraising. Through their care and concern, hospice volunteers help others live life to the fullest," she said.
Those who are interested in becoming a hospice volunteer are encouraged to call Lower Valley Hospice and Palliative Care at 509-837-1676.
Organizations may schedule a presentation about hospice by phoning the same number. Those who would like more information about hospice and palliative care are also invited to call.