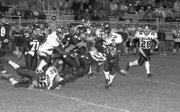 A solid start wasn't enough for Sunnyside, which saw visiting Selah ring up 40 unanswered points in a 47-12 loss Friday night.
After Selah drove the field on its first drive to go up 7-0, the Grizzlies answered as Brandon Coleman returned the ensuing kick-off to midfield.
B.J. Miller bulled his way inside the Selah-40 before the Grizzlies were stopped on fourth-and-one. Sunnyside's drive found new life, however, when Selah was whistled for defensive pass interference. That put the Grizzlies in business at the Selah-15 and Miller rumbled in for a score on the next play.
The visiting Vikings scored on their next possession to go up 14-6 as the first quarter closed.
But Sunnyside couldn't answer with a score of its own. In fact, the Grizzly offense was stymied by Selah until a Mickey Saldana touchdown late in the fourth quarter, well after the Vikings had the game in hand.
"After our first drive they just stuffed the inside run," Sunnyside Coach Mark Marro said of Selah's defensive adjustments to the Grizzly ground game. "We just didn't meet the challenge very well."
On offense the Vikings made the most of their height advantage at wide receiver. Selah quarterback Kyle Washut lobbed up touchdown passes to twin tower receivers Jake Zeutenhorst (6-5) and Zach Friedrich (6-2) to guide the guests to a 27-6 halftime lead.
Selah all but put the game away early in the third quarter, returning the second-half kick-off for a touchdown to grab a 33-6 lead.
The Vikings went on to lead 40-6 after three quarters then piled on a touchdown in the fourth quarter to go up 47-6.
With 1:36 to play in the game Sunnyside finally found the end zone on Saldana's one-yard plunge.
The loss, Sunnyside's home finale, dropped the Grizzlies to 0-6 in Mid-Valley League play and 0-9 overall.
Sunnyside wraps up the 2005 campaign at 2A Naches this Friday. "We're going in there just looking for a win," said Marro.
Statistics
Passing:
Sunnyside - Sambrano 3-13-19, Cantu 2-4-4.
Selah - Washut 10-14-145, three touchdowns; Goodwin 1-1-19, one touchdown.
Rushing:
Sunnyside - Miller 21-94, one touchdown; Saldana 1-1, one touchdown; Alvarez 9-76.
Selah - Succotti 8-49, one touchdown; Ringer 12-130, one touchdown.
Receiving:
Sunnyside - Garza 1-6, Coleman 1-5, Zakahi 1-5, Cornelius 1-9.
Selah - Friedrich 2-32, one touchdown; Zeutenhorst 4-92, one touchdown; Gertz 1-19, one touchdown.