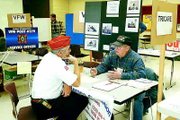 YAKIMA - A Veteran's information fair and stand down was held Saturday in Yakima at the HUB building at the Lower Valley Community College.
Between 500 and 600 people showed up for the sixth annual stand down, Marv Franklin, co-chairman for the event, said.
"The first time we put it on about 200 people came," Franklin said. "The more we put it on the larger it grows. We expect 700 people next year.
The fair is held every year to give veterans an opportunity to learn about all their benefits in one place. Veterans and their family members can browse through all the booths set up to give information.
One such booth was manned my Meg Spurgin. Spurgin is a loan officer for Pacific Guarantee Mortgage.
"I'm down here because I run into too many veterans who don't know about their home loan benefits," Spurgin said.
She said some veterans are discouraged from using their benefits because in the past a veteran loan took a long time to go through. That's changed now and Spurgin is trying to spread the word.
Before, all home appraisals had to be sent off to the VA to get signed off and that could take up to six weeks, Spurgin explained.
"Now lots of companies are set up on a direct endorsement," she said. "The underwriter can approve the appraisal now shortening the process."
Another reason the process has gotten shorter is the availability of Certificates of Eligibility online. Companies can now close a VA loan almost as fast as a conventional loan.
To be eligible for a veteran's loan a person just needs to be a veteran.
Along with the information booths, gently used or new clothes have been donated to this years effort since July. "Macy's donated about 40 bags of clothes their employees collected from their homes," Franklin said.
The Y.V.C.C. veteran's club provided free hair cuts to anyone who wanted one and they also provided use of the HUB building by hosting the event.
"I would like to thank the Yakima County Food Services for providing the food and all of the volunteers," Franklin said.
Franklin also wanted to thank businesses that donated money and services to the event.
The next veteran's stand down is scheduled for Oct. 28 of next year with a location yet to be decided.