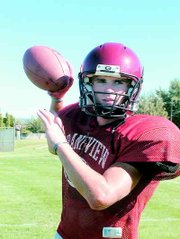 GRANDVIEW - Two overtimes, two teams, one heartbreaking loss.
They add up to Grandview's experience in last year's football rivalry match-up with neighboring Sunnyside. It's an outcome the Greyhounds hope to reverse in Friday night's opener at Sunnyside.
"It was just a tough game between two good teams," Grandview Head Coach Dustin Lamb recalled of last year's double-overtime loss.
That was Lamb's first game at the Grandview helm, and his first encounter with the Greyhound/Grizzly rivalry.
"I didn't realize it would be so intense," Lamb noted while watching his team practice drills last week. "They are two teams that play with so much heart."
He added that the loss to Sunnyside a year ago was a tough way to open but "...we just learned and built from it."
Continuing that building process with a win this coming Friday will require a near-perfect game from Grandview. "They're a very well coached team," Lamb said of the Grizzlies. "We'll have to play mistake-free football, which is hard to do early in the season."
The Greyhounds - or Air Hounds - will rely on a spread passing attack guided by returning all-conference quarterback Brandon Artz.
Lamb said the Grandview line will be a key if his team is to open 2005 in the win column.
"We've got to play solid up front offensively and defensively," he observed. When Grandview has the ball, the line will be called on to give Artz time and protection to hit one of his receivers. Defensively, Lamb will look to his line to slow down Sunnyside's ground game.
On paper, the season opening tilt is merely a non-conference affair between schools in two different classifications - 2A Grandview and 3A Sunnyside.
But don't try to tell that to Lamb or his players.
"It's a huge game for us," he said. "They are our neighbors and we want to beat them whenever possible."
Numbers - whether classification or last year's score - will account for little on Friday when the Hounds suit up against their cross-valley rival.
"You can throw out all that stuff," Lamb noted. "When it comes to playing in this rivalry it's like playing your older brother."