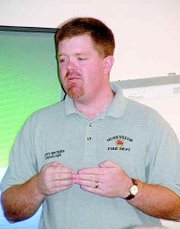 Crisis and trauma are two things that can affect people in different ways, and Sunnyside Fire Department Chaplain Lloyd Wicker is working to ensure that when a crisis hits at home there are people on hand to help deal with the mental aftermath.
Wicker is working to help organize a Critical Incident Stress Management team, which would be dispatched to help people deal with the mental anguish that often accompanies stress, crisis and trauma.
Wicker, who served as the guest speaker at Wednesday morning's Sunnyside Daybreak Rotary Club meeting, noted that last week 22 Sunnyside people received their first round of training and took their first step to becoming a member of the stress management team.
According to Wicker, the team being formed in the Yakima Valley would be the first of its kind in this area. He noted that Benton County currently has the nearest Critical Incident Stress Management team. Wicker, who is a member of that team, said although the Benton County team makes itself available for Yakima County incidents, having a local team would be advantageous.
He noted that a local team would be closer and therefore able to respond faster when incidents occur.
As to the types of incidents the team would be called out for, Wicker explained that it varies. He noted that often times what one person may qualify as a crisis, another person may not.
"We all experience crisis in a different way," Wicker said.
He noted that for one emergency worker, going to the scene of a car accident where three people are pronounced dead could create a crisis or trauma in their life. He said for another emergency worker, the accident could be seen as just part of the job.
The Critical Incident Stress Management team could then be called in to help the emergency worker who is having trouble dealing with they saw at the scene of the accident.
Wicker said the team would also respond when larger scale tragedies occur. He said if there were to be a large scale crisis, the team could be called in to help those who were involved with the incident, be it emergency workers or witnesses, and help them cope with everything they saw and experienced.
He explained that the team can work in different ways, noting that at the scene of something like a fatality car accident, the group would be called in to give a brief on-scene session to the emergency workers about how to deal with what they saw.
In the case of a larger incident, Wicker said the team would do a demobilization briefing. He said the briefing would take place off site, away from the tragedy, and would be used as a way for emergency workers to talk about what they just witnessed. Wicker said this is something that can help prepare an emergency worker, such as a police officer, firefighter or emergency room staff member, to go home and deal with the tragedy in a healthy way.
But the team doesn't always have to work in large groups. Wicker told the Rotarians that the team is also trained in peer support, which offers one-on-one crisis management help to those who are having trouble dealing with an incident.
Wicker said critical incidents the team is trained to respond to include everything from a line of duty death to the suicide of a co-worker.
Wicker said the key duties of the Critical Incident Stress Management team is to help those exposed to a crisis to stabilize their feelings and refer those who need additional counseling to a mental health professional.