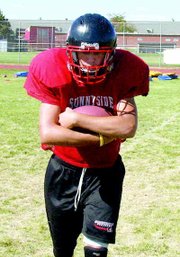 While it is highly unlikely the two teams will duplicate last year's double overtime thriller, Sunnyside High School football coach Mark Marro is expecting another classic encounter with long-time rival Grandview.
"This is what high school football is all about," said Marro, referring to the ageless football rivalry between the two neighboring communities.
Sunnyside opened the season last year at Grandview with a 32-25 double overtime victory. This time the two teams open the season in Sunnyside this coming Friday at 7:30 p.m., where Marro is hoping to grab a win to establish needed momentum for the season.
"I think it (the football game) is big," said Marro. "I don't think for a second it is a throw away game."
Part of the problem with last year's game for Sunnyside was that the Grizzly coaches were learning as they went a long. The Greyhounds had a new coach in Dustin Lamb. Marro said the Grizzlies had trouble with the defensive scheme set by Lamb and his staff, particularly against cover two.
"We weren't ready to throw against cover two," said Marro. "It was just something new for us. Both team did everything they could (last year) to lose that game."
It is no secret what the Grizzlies will do on Friday night, as Marro hopes to have the Sunnyside running game carry his team.
"We run what we run," said Marro. "We either run it well or we run it poorly."
Sunnyside had a tremendous amount of success on the ground against Grandview last year, racking up 209 rushing yards on 33 carries. Marro will be turning to the Sunnyside backfield of Michael Graham, B.J. Miller and Joseph Villanueva to carry the load there.
Marro will be looking for a way to stop the deadly Grandview combination of quarterback Brandon Artz and receiver James Vela. The two Greyhound players had a tremendous game last year against Sunnyside, including connecting on a 4th and 15 play for a touchdown in the first overtime session.
"They can throw the ball," said Marro of Grandview. "That is what they do. They are going to spread the field."
Marro said even though Friday night's game is a non-league affair, a win to start the season is crucial.
"It sets the tone," said Marro. "It gets the ball rolling."
Marro said both coaching staffs know what to expect from one another on Friday night, so the game plan will be no surprise.
"I am not going to surprise anyone out there," said Marro. "It is going to be who stops the other."