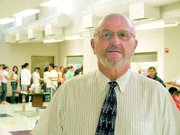 MABTON - The Mabton School District's participation in the Bill and Melinda Gates grant program continues to reap dividends as Junior-Senior High School Principal Keith Morris travels to Washington D.C. next month.
Morris will be participating in a conference on Breakthrough High Schools: Focus on Leaders, which will be held Oct. 6-8 in Arlington, Va., near the nation's capitol.
"I was asked to be on a panel of principals from around the nation to network with other principals," Morris explained. "The whole idea is to gather principals together and identify successful reform strategies and identify common leadership behaviors."
The Breakthrough High Schools conference is an extension of the Bill and Melinda Gates program and sponsored by the National Association of Secondary School Principals.
It will afford Morris the opportunity to represent small, rural high schools as well as network with leaders from larger high schools around the country.
The Gates' grant funding has made a significant difference in Mabton, Morris noted.
"Five years ago we entered into the whole Gates' grant and probably the biggest thing it's done is to make us focus on instruction."
The program has also brought a collaborative spirit to the district. Morris said he typically spends a couple of hours each day in the classroom, further building teamwork between administration and teaching staff in the school.
All important WASL test scores have improved under the Gates' grant funding. This year Mabton is one of two Lower Valley schools - Toppenish is the other - to meet school improvement goals two years in a row.
Morris observed that the Gates' grant and the upcoming trip to D.C. are ultimately about "having higher expectations both for the staff as adult learners and for our kids."