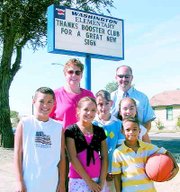 When something big is happening at Washington Elementary School, parents will know in a heart beat...or more appropriately, with just a quick trip around the block.
Just a few weeks ago, Washington Elementary School erected a sign along Sixth Street that will allow school officials to remind parents when big things are happening.
"It gives us an opportunity to announce special things that are going on throughout the school year," said Assistant Principal Rob Chambers.
Chambers said the idea to purchase the sign came from members of the Washington Elementary School Booster Club. He noted that last year, the club decided it would use some of its funds to help pay for the new sign.
Chambers explained that the Booster Club lends a helping hand during the twice yearly Scholastic Book Fairs held at the school. He said the club works to find volunteers to work at the book fair, and because of the work they do they are rewarded with a portion of the profits from the sale.
Although the Booster Club voted to spend a chunk of its funds on the new sign, Chambers said they also do other things for the school during the year.
Chambers said the club does an annual canned food drive in the winter, a reading project near Valentines Day and, last year, the group put together a breakfast for all of the school's teachers during Teacher Appreciation Week.
"They're involved a great deal with the school," Chambers said.
He added that he is happy about the new sign the Booster Club helped make possible.
Chambers said the sign gives the school another avenue to use when it comes to reaching out to parents.
"This is just another small piece to help in communicating with our families," Chambers said.
Chambers said the sign itself was donated by Pepsi, but the Booster Club paid for the pipe and cement used to erect the large sign.