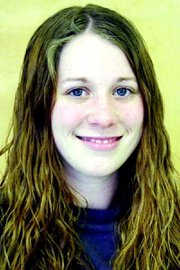 by Rachel Bott
Take a moment and think about your favorite CD. You know which one I mean, that one CD where you can't even bring yourself to bother listening to unless you know you have time to hear the entire thing. It's just THAT good, and you hold its value high above many other albums you may own, and you never tire of hearing it.
This is one of my favorite things in life, to discover albums like these. What amazes me is when one band can have this effect on me with two consecutive albums. Let's just say it doesn't happen often.
For example, Lucero's That Much Further West of 2003 is one of the albums I can't really even bring myself to speak of, because I know nothing I could ever say will ever explain it correctly or do it justice. So I just spend my time loving it.
Now after a two-year break and a new record level, Nobody's Darlings has completely amazed me once again, with the perfect balance of possessing every musical quality I loved about their last album and bringing even more to it.
When you strip this album down, it holds a fair amount of dramatic guitar solos, references to drinking in bars, and the word "darlin." If I only described this CD this way, you could fairly say it has a lot in common with lots of other country songs. But, oh if only other country bands could accomplish half of what this album succeeds in doing so well!
The album's overall effect seems to be both strongly rustic and even rough. Ben Nichols delivers brash vocals with a strong tone of feeling and understanding from beginning to end. Nichols' guitar left and Brian Venable's guitar right experiment with captivating guitar riffs that are somewhat lengthy at times. I will admit, that at times this is generally a warning sign for me...I love music but I don't necessarily enjoy when bands get so focused on tons and tons of guitar solos, because it seems to drown everything else out.
In "Noon as Dark as Midnight," almost half the song is solitary guitar and extremely complimentary bass structure. When the singing pretty much ended a little over halfway through the 6-minute track, I caught myself cringing; worrying, "Please don't tell me there's going to be a 3-minute long solo here!" However, what seemed immediately to follow was that the next track was already beginning.
I found myself loving it, based on how quickly it seemed to end. When I listen to that song I don't think I would like it as much if it didn't have the lengthy instrumental break. In fact now I'm thinking, vocals take up so much of many songs, and it's a method to appreciate the singer's strengths.
This album goes beyond what many others do. It captures the listener into recognizing and appreciating the talent possessed in voice, guitar, bass (John Stubblefield), and drums (Roy Berry). Many songs are taken up with vocals, yet this album is powerful and smart enough to highlight every instrument used without any one taking over.
All I can say again and again is simply, I'm SO impressed. This, I'm well aware, will be one of those CDs like I mentioned above, where I'm nervous to even speak of because it's literally untouchable. I just love it, and I'm comfortable leaving it at that.
Rachel Bott is a music enthusiast who is employed as a para-professional at Outlook Elementary School.