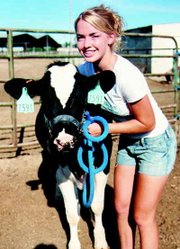 Wrapping up what has been a busy summer, Corrin Veiga has her eyes set on competing in the Miss Sunnyside Pageant to be held Saturday, Sept. 17, at the Sunnyside High School auditorium.
Veiga, who is a junior at Sunnyside High School, is one of six young women vying for the 2005-06 Miss Sunnyside crown and scholarship.
Tickets, priced at $10, for the 7 p.m. pageant go on sale Monday, Sept. 5, at the Sunnyside Mini Mall.
The pageant is being held as part of Sunnyside Sunshine Days, Sept. 16-18.
Veiga said she has always wanted to be Miss Sunnyside and is eager to step on the stage to give it her best effort.
"I believe it is important for Miss Sunnyside to contribute to the community, and if selected I want to support the 21st Century after-school tutoring program," the petite blonde said.
The Sunnyside School District learning center is open to third through 12th graders, offering mentoring and homework help, she explained.
"But it also provides enrichment activities for youth," she said.
"I think it is really important to help others with their education, especially in the area of literacy," she said.
"I believe it important for us to set good examples for others. I want to set an example of what can be accomplished with hard work," Veiga said.
Hard work is something Veiga knows a lot about. The 16-year-old is active in a variety of extracurricular activities at school, including Pep Club, Key Club, Link Crew and drama.
"I decided last year that I wanted to try something new, so I tried out for drama. I was given a part in Grease," she said.
"It was fun. After all, you're only in high school once and I want to make the most of it," she added.
Veiga is also active in 4-H, raising and showing dairy stock. She joined 4-H as a first grader.
"I remember watching my older siblings show their animals at the fairs when I was little. I couldn't wait until I was old enough to do the same," she said.
Since joining 4-H, she has raised and shown her dairy animals at area fairs every year.
She said the 4-H experience has been very rewarding. "It has taught me about public speaking, being responsible and how to accomplish goals," she explained.
Veiga is also active in her church, where she sings in the St. Joseph's Catholic Church choir, and attends religious education classes. She also helps with food drives at her church.
Veiga plans to begin attending Running Start on the Grandview campus of Yakima Valley Community College this year, in addition to attending classes at Sunnyside High School. Following high school, she wants to continue her education with a goal of one day becoming a physical therapist.
"I think it would be neat to see a patient improve over time," she explained.
In addition to her other activities, Veiga likes to relax by going camping with her family and taking boating trips.
The daughter of Tony and Brenda Veiga of Sunnyside, she is being sponsored in the pageant by Bovine Practitioners Associates and Lower Valley Credit Union.