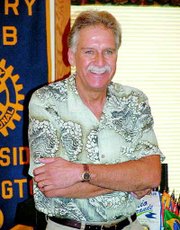 Dave Van Klinken went from being a flat land farmer in the Yakima Valley to showing Central American farmers how to start their own farming operations in the hill country of Nicaragua.
Van Klinken, who works full-time for a non-profit agency devoted to helping farmers help themselves, was the guest speaker at the Sunnyside Noon Rotary Club meeting Monday.
Van Klinken works for Partnership World Wide in Nicaragua, where farmers are attempting to farm acreage which is often located on a 45-degree incline. He said his task is to aid farmers with purchasing the land, obtaining loans, and even to teach simple farming techniques such as installation of irrigation systems.
"We use the materials we have on hand in most cases," Van Klinken told the Rotarians.
Vegetables, coffee and even some cattle operations are among the farming ventures with which Van Klinken has aided since deciding to work for the non-profit agency full-time.
"For years, I spent summers working in third world countries all over the world," he explained.
Then two years ago, the Sunnyside farmer and his wife, Wendy, a nurse, decided to join Partnership Worldwide full-time.
Van Klinken, who farmed with his father in the Yakima Valley until 1987, worked in farm management, before finding himself interested in helping struggling third world farmers.
His decision to commit to the agency's mission was based on many discussions with Prosser farmer Doug Seeback, who founded the Partnership World Wide project.
"We're in the business of helping create businesses and jobs in third world countries," Van Klinken explained.
"But we don't go in with our ideas of what the people need," he explained.
"It's important for us to listen to what the people want to see done," he explained. He added the most important factor is that the projects are ones which the farmers buy into.
"They have to be committed to making a success of their efforts and we're there to offer aid, if needed," he explained.
Van Klinken said when Partnership representatives have tried to force their own projects on the farmers and businessmen, the results have never been good.
Van Klinken told of one American businessman who saw that his third world community needed sanitation improvements. "The people worked with him to create the project, but when he left the project fell apart," Van Klinken explained.
"When he asked the town leaders where the outhouses were, the leaders said they had used them for firewood. That is what the town needed," Van Klinken said.
Learning from those mistakes, Partnership World Wide now invests a great deal of time in learning what it is that the farmers want to grow.
He said the project he is doing now serves 50 farmers engaged in various farming ventures.
"The farmers just want to make a living for their families," he said.
"We're just trying to help," he added.