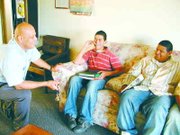 "Do we continue to run a program with a larger deficit, or cut our losses to do something else to help the community?"
The answer to that question, posed by Roberto Matus of the Salvation Army's River Valley Corps, led to shutting down the Bienestar Transitional Living Center near South Hill Park in Sunnyside.
The three-year effort to provide assistance for Sunnyside's homeless ends Sept. 30 when the Salvation Army closes Bienestar.
With Bienestar closing its doors, the nearest homeless shelters are in Yakima and the Tri-Cities.
The center is closing, notes the Salvation Army, because of "decreased federal funding and lower than expected support from private benefactors."
Operated by River Valley Corps, the Salvation Army's local chapter, Bienestar ran into a significant increase in expenses than when the center first received federal funding.
Matus said increases in minimum wage and the cost of fuel were primary reasons for the center's rising expenses.
Bienestar's annual budget of $104,000 is 78 percent funded by Housing and Urban Development. Though the center has federal funds through 2006, Matus said finding the 22 percent local match has been more difficult than expected.
"We did a mail-out to the community, but we got little response," Matus said of the Salvation Army's attempts to raise support for Bienestar.
During the shelter's three years it has retrained 60 residents and located permanent housing for more than 20 families. In addition, 50 children were given a supervised home environment. Its 10 employees are being relocated to other jobs in the community.
While living at the shelter, each resident is assisted with computer classes, organizing personal finances and finding a permanent residence.
Some of Bienestar's last residents include children.
"It's a good place to help us," said 10-year-old Isac Perez while getting ready to go to school Friday morning. Bemito Martinez, 13, added, "It teaches you to be responsible."
With Sept. 30 fast approaching, Matus said the primary goal is to find homes for the boys and their families. "We don't want to leave them out in the cold," he added.
Regarding the other half of the opening question - "do something else to help the community" - Matus said the Salvation Army is exploring options.
A food bank as well as energy and rental assistance are currently available in Grandview, but on a limited basis.
Whatever the Salvation Army's next effort will be, Matus said it will include more public relations and advertising. "The key is education and the application of marketing techniques to make the Salvation Army more visible," he observed.
While Bienestar's light is dimming, Matus indicated there could still be hope to keep the homeless shelter open.
A total of $55,000 is needed to get Bienestar back to even budget-wise and fund it for 2006. Matus said the Migrant Council has expressed interest in keeping the shelter open if additional funds can be located.
For more information on services provided in Lower Valley by the Salvation Army, or on how to keep Bienestar open, contact Matus at 882-2584.