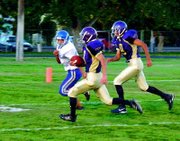 MABTON - Holding visiting Lyle to no offensive yards, the Mabton High School football team zipped past the Cougars 48-0 last Friday night.
The non-league victory came in Mabton's season opener.
The Vikings' leading ground gainer in the game, senior Pablo Sanchez, scored a pair of touchdowns enroute to a 10-for-97 rushing performance. Quarterback Alex Zavala, another senior, rushed for one TD and threw for another. Junior Ramon Castillo scored twice as well, scampering in from 15 yards out and hauling in Zavala's 25-yard TD toss. Sophomore Eli Perez, who picked up 23 yards on six carries, had the Vikes' other offensive score on a 5-yard touchdown run.
Mabton closed out the scoring in the fourth quarter when a defensive player recovered a Lyle fumble in the end zone.
Mabton Coach D.J. Search said the Vikings' defensive unit played well in limiting the Cougars to minus nine yards rushing and only allowing Lyle one completed pass for nine yards.
"Lyle runs a wing T, with lots of misdirection," said Search. He explained that Mabton's defensive players stayed in their assignments and coverages. "We had very little freelancing going on," he said.
Search added that unlike last season, when Mabton's defensive backs time and again had to step up and make the stop, the Vikings' defensive line and linebackers were in on the majority of the tackles this past Friday.
Despite the 48-0 whitewashing, Search said the Vikings still have work to do.
"We did pretty good Friday, but there's room for improvement," he said.
One area of the game Search would like to see improved upon is the number of penalties whistled against his club.
"We had 11 penalties called against us," he said. "Things like holding, blocking in the back, face mask penalties.
"It might have been a case of us being too aggressive," Search said. The goal, he added, is 100 percent execution on every play.
The Mabton coach also noted that his players weren't in tip top shape last Friday.
"We looked tired," Search said, explaining that the problem can be remedied by undergoing a better conditioning program in practices.
"We're still a ways off from perfect execution on every play," Search said.
In assessing the play of his offensive line, Search said he was pleased with the line's efforts in allowing the backs to get to the outside.
"We did a lot of veer option, although we had some good holes opened up in the middle for some big gains," he said.
Search also praised his first year quarterback, Zavala, with running the veer option to near perfection.
"Alex played very unselfishly," Search said of his QB, who not only knew when to pitch the pigskin at the appropriate times, but also picked up 63 yards on eight totes of his own.
"When it was open, he gave it (the ball) away," said Search. "He took some big hits along the way."
In looking ahead to this coming Saturday's Central Washington 'B' League opener at Waterville, Search said he and his crew are expecting a tough opponent.
"Waterville has won the league title for several years. They're always tough. We expect them to be tough again.
"They've got a new head coach this year, but their power full house T with a double tight end formation has worked for them before, so we expect them to use the same offense this year," Search said.
"I think we're probably more physical than Waterville. We probably out-athlete them, but they're tough to beat. They have a good program up there," Search added.
Saturday's game, for those Mabton fans who want to trek to the small community about 30 miles north of Wenatchee, is slated to begin at 1 p.m.