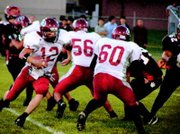 Grandview (1-0) broke open a tight game with 21 points in a span of six minutes to romp 40-7 over rival Sunnyside (0-1) last Friday in the football opener for both schools.
"That's a good football team we beat on the road," Grandview Coach Dustin Lamb said of the win at Clem Senn Stadium, which was a shutout until a Grizzly touchdown in the last minute of play.
Grandview's All-Conference quarterback Brandon Artz had his typical day at the office, posting 249 yards passing on 14-of-19 with four touchdowns to spark the rout. Frankie Medina accounted for 136 of the Hound's receiving yardage on just five catches.
"Number 12 (Artz) threw the rock tonight," Sunnyside Coach Mark Marro said after the game. "We flushed him out of the pocket and he still throws a 40-yard strike."
After searching much of last year for a running game, the surprise Friday was Grandview's rushing attack with 175 yards on the ground. Accounting for much of the Hounds' ground game was Medina, who carried 14 times for 131 yards.
In fact, the pass happy Greyhounds came out running the football from the first whistle, even attempting four consecutive rushes inside the Sunnyside 10-yard line with 3:49 to play in the first quarter.
The Grizzlies' goal line stand stuffed Grandview, but the tone was set.
"It may have actually been good for us," Lamb said of being turned away at the one-foot line, "because it made us realize there's no sure thing in this game."
The Grizzlies were forced to punt the ball back to Grandview a few plays later and, thanks to a 31-yard punt return by Matt Concienne, Grandview was back in business at the Sunnyside-36.
Artz connected with James Vela to move the ball to the 20. On the next play Artz displayed his scrambling ability by scampering to the Sunnyside-1.
Grandview scored on the next play as Artz lofted a pass to Vela in the right corner of the end zone.
After a successful point-after-attempt Grandview led 7-0 with 49 seconds to play in the first.
But opening-day jitters proved the Hounds' undoing into the second stanza as successive pass plays were brought back due to penalties.
"We had some problems with penalties, early season alignment problems, which aren't unusual for an opening game," Lamb observed.
The score remained 7-0 heading into the final five minutes of the half. Sunnyside put together its best drive at that point, moving to the Grandview-37.
Just as it looked like 2005 might be a repeat of 2004's close contest, Vela intercepted Jamie Sambrano's pass to the right flat to quash further Grizzly momentum.
Starting from his own 38-yard-line, Artz led the Hounds on a 62-yard scoring drive in just 98 seconds.
Grandview couldn't connect on the point-after, but led 13-0 with 4:16 still to play in the half. It would prove to be the first of three Greyhound touchdowns in a span of six minutes.
The Hounds pounced again following a Sunnyside punt attempt which netted only eight yards and set Grandview up at mid-field.
On first down the artful Artz scrambled away from pressure, sprinting to his right before throwing a bullet to the left side of the field, where he found Medina for a 26-yard gain to the Sunnyside-28.
"Frankie just knows when I'm in trouble and where I need to throw the ball," Artz said of the seeming telekinesis between quarterback and receiver.
It was typical of a frustrating evening for Sunnyside.
Whenever the larger Grizzlies flushed Artz out of the pocket, he time and again passed, pitched, shoveled or scrambled out of the defense's grasp.
On the next play Kevin Concienne made a diving touchdown catch. Grandview went for the two-point conversion when Artz again hit Concienne for paydirt.
That put the Hounds up 21-0 just before halftime. 90 seconds into the third stanza they found the end zone again on a three-play, 63-yard drive. Medina sparked the score with a 61-yard catch and run.
Grandview went up 28-0 on the point-after and cruised from there, posting one more touchdown in the third and in the fourth - missing the point-after both times - to seal the deal.
Trailing 40-0, Sunnyside finally found daylight just inside the final minute of play on a one-yard plunge by B.J. Miller.
Marro figured it was probably the most lopsided Grizzly loss in at least three years, but he kept the non-league tilt in perspective.
"We'll do what we have to do to work through this," he said. "We lose as a family and succeed as a family."
The contest also gave Marro a chance to play back-up quarterback Adrian Cantu. "He gives us a different look," Marro said of the sophomore. "He throws the ball real well."
Lamb credited his offensive line with springing the holes and fending off Sunnyside.
"It's all because of the line," Lamb said as he singled out J.R. Camacho, Rigo Rodriquez, Rafael Hernandez, Freddy Rodriguez and Jeremy Stegeman for praise. "Without them we don't have a quarterback or a running attack."
Grandview, which plays its home opener this Friday against league foe Kiona-Benton, will put the win behind them, Lamb observed.
"We'll just go back to work Friday night and put the best product out there that we can," he said. "We don't think about the other team as much as we focus on the things we need to do."
Grandview 7 14 13 6
Sunnyside 0 0 0 7
Statistics
Rushing:
Grandview: Medina 14-131, Artz 6-24, Vela 2-11.
Sunnyside: Villanueva 14-74, B.J. Miller 17-69, Cantu 2-17.
Passing:
Grandview: Artz 14-19, 246 yards, four touchdowns. Matt Concienne 3-4, 28 yards.
Sunnyside: Sambrano 5-12, 72 yards, 1 int. Cantu 1-8, 12 yards.
Receiving:
Grandview: Medina 5-136, Kevin Concienne 5-57, Vela 4-48, Valencia 2-27.
Sunnyside: Zakahi 4-46, Garza 1-26, Dolan 1-12.