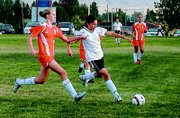 GRANDVIEW - For the first 10 minutes Grandview's soccer team had Prosser on its heals Tuesday, recording two shot attempts on goal and a couple of corner kicks.
But the next 70 minutes belonged to the visiting Mustangs, who prevailed 5-0 in the season opener for both teams.
"We had the momentum but we couldn't capitalize," said Grandview Coach Anne Holden.
A Prosser tactic which helped stem Grandview's tide was focusing on Greyhound soph sensation Anna George.
The Mustangs doubled up on defending George, who opened the match with a shot attempt and a corner kick opportunity.
"She needs to learn to come back to the middle of the field in those situations," Holden said. "That way it forces the other team to choose between chasing her or staying back to defend."
Just after the 10-minute mark of the first half, Prosser's Ali Suhavolnik floated a pass from the right side of goal, which Hillary Moore knocked into the back of the net to make it 1-0.
The goal of the match followed at the 21-minute mark as Moore took a pass and booted it home between defenders.
As Grandview recovered from the second goal, Prosser's Jordan Brown scored just two minutes later to make it 3-0 at the half.
Brown followed with two more goals in the second half to record a hat trick.
But Holden's team was unrelenting in the second stanza, displaying better ball movement and firing some near-misses on goal. On defense, goal keeper Kara Stanton made diving saves to reign in the Mustangs.
Senior midfielder Ai Tomizawa was a sparkplug for the Greyhounds, taking on larger opponents to get the ball up the pitch.
While 2A Grandview matched their 3A opponent's drive and intensity - Prosser had just one more shot attempt (7-6) for the match - the passing game made all the difference in this one.
Holden said building team communication and trust will be keys for developing both a passing attack and defense.
Taking on larger Prosser in a non-league match was all about a learning opportunity, she added. "I brought in everybody, even three or four who didn't have previous varsity experience," Holden said.
Grandview, 0-1, returns to its home field Saturday to play league foe Othello at 1 p.m.