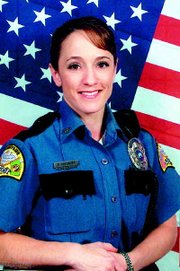 Erica Rollinger is the newest officer to join the Sunnyside Police Department and is the third female officer to become a member of the force, according to Sunnyside Police Chief Ed Radder.
"My first day was Sept. 1," said Rollinger, a 1991 graduate of Sunnyside High School and a 2001 graduate of Central Washington University.
Police work was not Rollinger's first choice, she said, having majored in accounting while attending college. "I had a lot of false starts before finding a career I love," she said.
Her career switch to police work was the result of a chance meeting of a Washington State Patrol recruiter in the spring of 2001 at a college career fair. The meeting set her on the road to law enforcement, she said.
"At the time I was contemplating which career path to take when I met the WSP recruiter," she said.
"I wanted to pursue a career that offered daily challenges, diversity and the opportunity to give back to the community while utilizing my Bachelor of Science degree in administrative management," she explained.
"Police work does that and the rest is history," she smiled.
Rollinger took her Civil Service exam in 2001 and has tested for multiple agencies ever since.
"I learned very quickly the testing process to become a law enforcement officer is very competitive," she said.
Rollinger said her testing included oral, written, physical and agility, as well as background checks, polygraphs, psychological and medical exams.
"Officer hiring is also very dependent on a department's budget," she added.
For the past three years, Rollinger has worked at the Yakima Police Department, where she started as a police services specialist. Within seven months of joining the Yakima department, Rollinger was assigned to the protection order desk.
While working in the Yakima Department, she also joined the Sunnyside Police Department Police Reserve in 2003. She graduated from the Reserve Basic Law Enforcement Academy in June 2004.
Being a reserve police officer was a win-win situation, she said.
"It gave me a way to volunteer and serve my community while serving as an excellent hands-on learning experience," Rollinger said.
In addition to working for the Sunnyside department, Rollinger must now undergo the field training officer program and is scheduled to attend the Basic Law Enforcement Academy at the Washington State Criminal Academy Commission in Burien in November for five months of training.