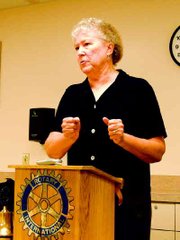 Sunnyside police are investigating three vehicle thefts which occurred earlier this week.
This past Tuesday, officers received three separate reports of car thefts. Taken was a 2002 Ford Explorer from the 400 block of South Hill Road, a 1989 Ford Thunderbird from the 100 block of Parkland Homes and a 1990 Chrysler LeBaron taken from the 400 block of West Maple Street.
Persons with information regarding the missing vehicles are asked to call the Sunnyside Police Department at 836- 6211.
In unrelated incidents, police are investigating a series of thefts which occurred during the past 24 hours.
Officers are seeking information in the theft of a guitar and amplifier from a residence in the 1300 block of North Avenue and a lawnmower taken from a yard in the 1300 block of Cascade Way.
Officers are also seeking the driver of an older white Toyota pick-up, which was last seen leaving the gas pumps at the Outpost on Waneta Road without paying for an undetermined amount of gas.