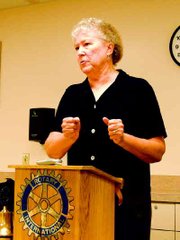 Working to improve the lives of nearly 500 fifth graders is a challenge. But when Sunnyside's Promise decided to adopt the class of 2012, that's exactly the challenge that it took on.
Wednesday morning, Sister Mary Rita Rohde, a member of Sunnyside's Promise, talked to members of the Sunnyside Daybreak Rotary Club about the adoption program and the volunteers needed to make the program a success.
Rohde said Sunnyside's Promise is currently working to invite different businesses and organizations to each adopt a fifth grade class in the Sunnyside School District. She told the Rotarians that adopting a class means volunteering to spend at least 30 minutes a week with students in the classroom, as well as talking to the teacher to find out if there are any other needs a volunteer could fill for the students. She explained that this could include anything from purchasing some recreational reading books for the class to simply spending time with students after school.
Rohde said volunteers are an important part of making the Sunnyside's Promise adoption of the class of 2012 a success.
Rohde said the reason the group decided to "adopt" the class of 2012 is to help ensure that children are moving forward with their education and eventually graduating from high school.
According to Rohde, about 50 percent of students drop out of school before high school.
"That's 50 percent of our children who are on the streets somewhere with no marketable skills," Rohde said. "Our whole thing is to get these kids through high school."
Rohde noted that volunteering to spend 30 minutes in a fifth grade classroom can be all it takes to make a difference in the lives of the students in that class. She said volunteers can spend time reading with students or even talking to them about what they do for a living. Rohde said this can often open a child's eyes to the different career paths available to them.
Rohde said those who opt to volunteer as part of the program will receive training through Sunnyside's Promise before they are sent out into the classrooms.
She added that committing to volunteer in a classroom is a one-year mission. Rohde explained that next year the class of 2012 will be in middle school, and a mentoring plan has yet to be established on how to deal with students' changing schedules.
"We're really dedicated to doing this," Rohde said of Sunnyside's Promise. "But we can't do it ourselves."