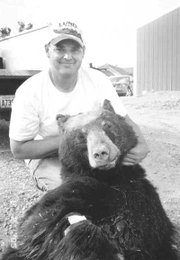 OUTLOOK - Bryan Porter's aim was true and many in the small community of Outlook breathed a collective sigh of relief.
Last Friday, Porter stalked and killed a 400-pound bear spotted in corn fields near Outlook. The black bear was reported to have been close to town and even in the vicinity of homes in the Outlook area.
State Patrol, as well as wildlife officials, gave Porter the go-ahead for the hunt as he had the proper permits and tags.
"We just went bear hunting in Goldendale two weeks ago," the Outlook native and resident smiled. "I guess I didn't have to go that far after all."
Porter's search for the bear began last Thursday afternoon after emergency calls went out announcing the bear was in the area.
But stalking the bear was hindered by stalks - cornstalks - as it foraged first in one field and then the next not far from Price Road.
"All I knew is that I didn't want to go into a corn field after a bear," Porter said shaking his head.
So began a waiting game for the bear as it meandered between fields owned by the Ebbelaar and Partch families.
Providing assistance in the search were family members who kept an eye out for signs of the bear. Wildlife officials were also on the scene at times, helping track the bear's whereabouts.
By Friday afternoon the bear had crossed Price Road and wandered into a vacant field. "I don't know why there wasn't anything growing there, but I'm sure glad there wasn't," Porter said of the clearing which gave him a clear shot at his seven-foot-tall prey.
One shot from Porter's seven millimeter rifle was all it took to bring down the bear, which for two days had created concern among some of the townsfolk in and around Outlook.
Porter was about 200 yards from the bear when he fired from a point near Price Road. By the time the shot was taken, the bear had migrated to within a few hundred yards of Yakima Valley Highway.
Though Sunnyside High School teams compete with the Grizzly as their mascot, Porter said the area - at least Outlook anyway - isn't exactly bear country.
He figures it may have come down from one of the ridges or passes in the area. One thing's for sure, the bear had an appetite by the time it reached Outlook.
"I took it to a taxidermist and he said the bear only had one-inch of fat when it should have three inches by now. It was hungry and foraging for food," Porter said.
He also learned from the taxidermist that the bear was an older male and probably wouldn't have lasted much more than another year in the wild because of its low fat storage.
So what was it like bringing down the seven-foot giant?
"I was pretty excited," he said of claiming the bear. "I've been bear hunting for four years and this was my first one. I just never thought I'd get it in town."