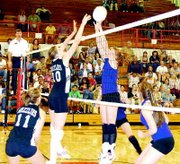 On paper, Hanford won 3-1 at Sunnyside Thursday night in the Mid-Valley League volleyball opener for both teams.
On the court, however, it was a battle worthy of a playoff match as the Lady Grizzlies fell 19-25, 21-25, 25-21 and 20-25.
In game one, Sunnyside played the Falcons even until the guests forged a 23-15 lead. The Lady Grizzlies rallied to within 23-19, sparked by a kill from Claire Schilperoort. But a delay of game call against Sunnyside due to a bobby pin spoiled the home team's momentum.
"That really changed things," Sunnyside Coach Angel Carrizales said. "We're a young team but once we get past those little mistakes we'll be a tough team."
The Lady Grizzlies roared to a 3-0 lead in game two but the second stanza quickly turned even. Tied 19-19, neither side could hold serve on four consecutive attempts. Hanford broke the stalemate as the Falcons' Brittany Quick found a hole in the Sunnyside defense.
That put the guests up 21-20 and they scored four of the last five points to take the second game.
Down two games to nothing, Sunnyside showed no quit as the girls surged to a 15-8 advantage in game three.
"The girls never felt like they were going to give up," Carrizales said. "That's something we've been trying to build in the program here."
Schilperoort, Samantha Jo Sartin and Talia Spini dominated the net during the run, but Hanford answered on the strength of DeChauna Skinner's howitzer-like serves.
The Falcons reeled off 10 points in a row to lead 16-15 and seemed on the brink of a sweep.
Led by net-hugging jump serves from Christy Linde, Sunnyside regained control and went on to outscore the guests 10-5 from there.
Hanford finally began wearing Sunnyside down by the fourth and final game. Trailing 14-9, the Lady Grizzlies closed to within one at 20-19 before the Falcons pulled away for the victory.
Carrizales said the key to Sunnyside's success - and struggles - against Hanford came down to passing the volleyball.
"We live and die by our passing," she said. "When that part of our game is on we're real competitive."
Sunnyside was sparked by Linde's 11 digs, 11 kills and four aces on 15-of-18 serving. Sartin contributed 24 assists and Eleanor Garcia hustled for 10 digs.
The Lady Grizzlies (0-1, 0-1) travel to the SunDome tomorrow, where they begin tourney play at 8 a.m. "This kind of non-league tournament will be an opportunity to fine-tune our goals for league," Carrizales said.