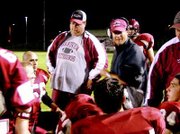 GRANDVIEW - Greyhound football took the fourth Friday in a 47-7 romp over Kiona-Benton in the CWAC opener for both teams.
Grandview took the fourth, that is, by stuffing two crucial Ki-Be fourth-down attempts in the first half. On offense, the pass-happy Greyhounds converted two fourth-down plays for scores.
Much like the opener at Sunnyside a week earlier, Grandview stumbled somewhat out of the gate. Ace quarterback Brandon Artz competed just three of his first nine passes and Greyhound receivers uncharacteristically dropped a couple of passes.
With 6:35 to play in the first quarter Grandview finally took a 7-0 lead against the outmanned Bears when Frankie Medina scampered for a three-yard touchdown run.
Ki-Be nearly answered on their next possession after a Bear receiver fought off J.R. Camacho for a 37-yard pass play to the Grandview 46-yard line.
A roughing the passer penalty two plays later gave Ki-Be a first down at the Grandview-27.
The stunned Greyhounds rallied by stopping consecutive Ki-Be running plays. The Bears went for it on fourth-and-seven from the Grandview 25 but Artz tipped away the pass attempt.
Grandview took over on downs and the fourth down defensive stop seemed to rally the Greyhound offense.
"It took a while for us to get our feet under us," said Coach Dustin Lamb. "The excitement of the first home game in a lot of ways is like the first game of the season."
Returning to form, Artz completed his next six passes and, just as importantly, Grandview's run game found new life.
Nowhere was that more evident than Medina, who broke a tackle for a 60-yard touchdown run to make it 13-0 after the missed point after attempt. The junior rushed for 193 yards and three touchdowns for the game on just 12 carries.
Yet, Ki-Be found a way to respond. A Bear receiver hauled in a tipped pass and Ki-Be runners found holes in the line to move the ball to Grandview's 33-yard line.
With jut over eight minutes to play in the half, Ki-Be again found itself with a key fourth down deep in Grandview territory.
Hound defenders stepped up, however, pressuring Ki-Be quarterback Anthony Pace into throwing an incomplete pass.
Grandview took over on downs at its own-32 and again mounted a scoring drive. The six-play, 68-yard drive for paydirt was keyed by not one, but two successful fourth-down plays.
Mixing the run and pass, Grandview moved the ball to Ki-Be's 23-yard line, where the Hounds faced fourth-and-one.
Artz scampered for an apparent first down on a keeper, but an offsides call negated the play and pushed them back to a fourth-and-six at the 28.
Grandview again went for the first down, only this time went for it all in the air as Artz found twisting, turning James Vela in the right corner of the end zone for a touchdown.
"We were going for all or nothing," said Lamb, "and our receiver got under it to make the play."
After a successful point-after try the Hounds were up 20-0 with 5:48 to play in the half and the Greyhound express was rolling.
On its ensuing possession, Ki-Be went to the air in an attempt to score before halftime. The strategy backfired as the Hounds' front line recorded consecutive sacks to force the Bears into a fourth-and-forever.
Ki-Be wisely decided to forgo the fourth down attempt at that point and punted from its own nine.
That set up the Hounds' air attack at the Ki-Be 44-yard line. Two plays later Artz again found Vela, this time for a 34-yard touchdown toss with 2:18 left in the half.
Up 26-0, Grandview sealed the deal 92 seconds later on Vela's three-yard touchdown run following a Ki-Be turnover to make it 33-0 at halftime.
Grandview substituted liberally in the second half and built the lead to 40-0 after three quarters. Pace connected with Luke Fluharty midway through the fourth for Ki-Be's only score.
Leading 40-7 in the game's final seconds, the Hounds' second team closed the contest with an exclamation mark on back-up quarterback Brad Peterson's 12-yard scoring scamper as time expired.
Lamb praised the play of Grandview's linemen in not only coming up big on fourth down, but for holding Ki-Be to just 19 rushing yards for the game.
"They're undersized but they're good athletes and they get in there to make the plays," Lamb observed.
Grandview (1-0, 2-0) has little time to savor its win as the Hounds travel Saturday to Connell for a key CWAC contest. "There's no rest for the weary," Lamb said with a slight smile. "We need to execute better and eliminate the penalties."
Statistics
Passing:
Grandview - Artz 9-15-160, two touchdowns. Peterson 3-5-35.
Ki-Be - Pace 9-15-91, one touchdown
Receiving:
Grandview - Vela 4-84, two touchdowns, Kevin Concienne 4-65, Adrian Perez 2-23
Ki-Be - Fluharty 3-66, one touchdown, Joe Mendoza 3-13
Rushing:
Grandview - Medina 12-193, three touchdowns, Peterson 4-24, one touchdown, Artz 2-19, Vela 1-3, one touchdown, Storm Shea 8-6
Ki-Be - Steven Gonzalez 14-33, Brandon Corriell 6-15, Pace 10- minus 25, Mendoza 1-minus 4